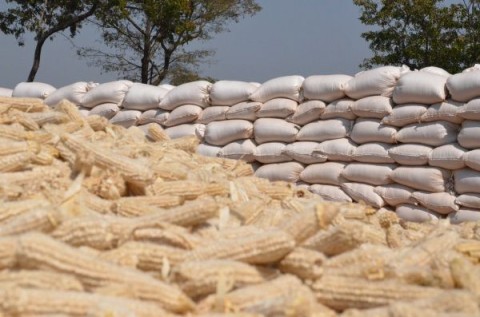 Zambia has planned to sell maize grains to Zimbabwe following drought incident that devastated their farm crops.
TheZambia Agriculture Minister, Given Lubinda said their country will first sell as much as 1 million metric tons of its white-corn surplus. The government has set aside about almost one-third of its record 3.2 million-ton 2014 crop to sell locally and to neighbors, he said. Lubinda has held talks with its southern neighbor Zimbabwe over a possible sale, he said on March 19, declining to stipulate how much it may buy.
"I'm hoping very much that all of it will go to exports because the quantity we're sitting on now, about 1.4 million tons, is much more than we require for local consumption," Lubinda said by mobile phone from Lusaka, the capital.
The worst drought since 1992 in South Africa, the continent's biggest corn producer and traditional supplier of its neighbors, has damaged plants, with the nation predicting a 32 percent drop in the 2015 harvest to the smallest in eight years. Botswana said crops are showing signs of "total failure" due to below-average rainfall, while floods in Malawi and Mozambique have curbed production.
Grain SA, the largest representative of cereal crop farmers in South Africa, expects the country to have a surplus of at least 100,000 tons of white corn, enough to meet the needs of the country and neighboring Botswana, Lesotho, Namibia and Swaziland until the new harvest starts in about May 2016, Chief Executive Officer Jannie de Villiers said in a March 18 interview. Zambia has supplied Zimbabwe with corn in recent years, he said.
Extra Demand
Any extra demand by Zimbabwe would imperil the supply balance, said Wandile Sihlobo, an economist at the South African grains organization.
"There's going to be more pressure on the demand side because Malawi serves a number of countries," Sihlobo said.
Zimbabwe has bought 56,997 tons of white corn from South Africa since the start of the marketing year in May last year, or 12 percent of the country's exports, data from the South African Grain Information Service shows. In the previous year, Zimbabwe purchased 28 percent of the total.
Zambia's government will export corn for prices ranging from $195 to $240 a ton, Lubinda told lawmakers March 18. White corn in South Africa has surged 28 percent this year and was at 2,760 rand ($228) a ton on Friday in Johannesburg. Corn on the Chicago Board of Trade has fallen 5.9 percent to $3.7375 a bushel, or the equivalent of $147.15 a ton. Transport costs would increase the price of imports from the U.S. to landlocked Zimbabwe.
Higher exports will cut the cost of reintroducing a corn subsidy for local consumers, Lubinda said. He announced the reintroduction of the corn-consumer subsidy in Parliament on March 17, and it becomes effective from March 23.
Cornmeal made from the white variety of the grain is used to make a southern African staple food known as nshima in Zambia, sadza in Zimbabwe and pap in South Africa, while the yellow type is used to feed animals bred for meat. Almost all corn traded on the international market is yellow.(Bloomberg)