Manny Pacquiao's trainer, Freddie Roach, has a theory on why the usually verbose Floyd Mayweather Jr. has been subdued during the build-up to Saturday's hotly anticipated welterweight bout at the MGM Grand.
"I am wondering if he (Mayweather) is going to show up, I really do," the bespectacled Roach told reporters with a smile before the two boxers held their final pre-fight media conference on Wednesday.
"His speech is very subdued and low-key. I don't think any fighter is afraid but I think he (Mayweather) was forced into a fight he didn't want to take. He didn't get to pick this opponent like he usually does."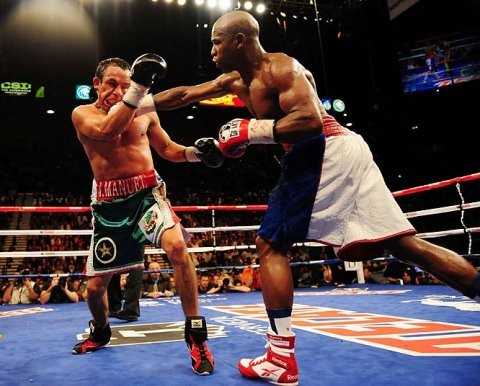 American Mayweather, nicknamed 'Money', is undefeated as a professional and will step into the ring on Saturday as the favourite in his bid to improve on a perfect 47-0 record.
Known for his flamboyance and shrewd business acumen, Mayweather typically indulges in plenty of trash-talking to promote fights but has adopted a low-key approach ahead of a bout that is expected to be the biggest-grossing of all time.
"I'm glad I was flashy and outspoken when I was younger but I'm close to the big 4-0," said the 38-year-old. "I don't have to bash anyone. I know what I can do.
"I don't focus on all the festivities going on. I just focus on being the best that I can be. When it comes down to it, it comes down to the two fighters."
Roach readily admits that he has studied more video tapes of Mayweather than other fighter and felt that he and Filipino southpaw Pacquiao were now "100%" ready to hand the American his first ever defeat as a professional.
 SABC