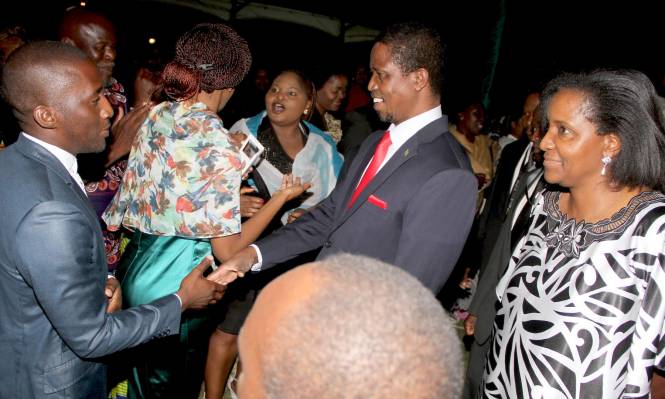 President Edgar Lungu has urged Zambians living in Zimbabwe to register as voters and cast their vote in the next presidential election.Speaking when he met Zambians living in Zimbabwe at the residence of the Zambian Ambassador in Harare last night, Mr. Lungu said Zambians living in Zimbabwe may be the most comfortable among citizens in the diaspora because of the good relations between the two countries.
President Lungu said Zambians will judge for themselves who was telling the truth among the country's politicians regardless of how some media houses were trying to distort his message and destroy his character.He said Zambians always decide who should be their President based on their judgment.

President Edgar Lungu has also urged Zambians both at home and in the diaspora to ascribe value to the meaning of national symbols in order for them to enhance the traditional spirit of hard work and unity in the country.He said the meaning of the national flag, coat of arms, the 'One Zambia, One Nation' slogan and the national anthem were important for rejuvenating the idea of unity and hard work among Zambians.He said the words in the verses of the national anthem should be understood by every Zambian and applied accordingly.

"When we sing our national anthem, we say, 'one land and one nation is our cry, dignity and peace,' all those words mean a lot to me and I think they should mean a lot to you as well," he said.
President Lungu noted that unfortunately, many Zambians do not even understand the words in the national anthem, let alone knowing how to sing it."Find time to reflect on those words, they mean a lot. When we talk about land of work and joy in unity, it means we must work hard," he emphasized.

Earlier, Zambia's Ambassador to Zimbabwe Ndiyoi Mutiti said President Lungu has already started fulfilling his campaign promises of caring for the Zambian people wherever they are.
Mrs. Mutiti disclosed that the Zambian community in Zimbabwe was confident that the President would steer the country to greater heights in terms of economic development.She also told the President that bilateral relations between Zambia and Zimbabwe have remained cordial adding that trade between the two countries had increased.
"For example, Zimbabwe imports a lot of maize from Zambia as and when the window of importing is available," she said.

Mrs. Mutiti further said the embassy in Zimbabwe was working tirelessly to enhance trade and other relations between Zambia and that country.
Meanwhile, Mrs. Mutiti said Zambians in Zimbabwe were well behaved as they were law abiding and committed to promoting national events in their country of residence.
And First Lady Esther Lungu was pleased that Zambians in Zimbabwe have behaved themselves in a dignified manner hence the comfort they were enjoying in that country.

And in a vote of thanks, former Bank of Zambia Governor, Caleb Fundanga, said President Lungu's attendance of the Southern African Development Community (SADC) extra ordinary summit was important especially that it was focusing on industrialization.
Dr. Fundanga, who now lives in Zimbabwe, pointed out that the industrialization agenda was key to the creation of quality jobs and fighting poverty.
He also said Zambians in Zimbabwe were happy with the way Mr. Lungu has embraced the bilateral relations with Zimbabwe, which he described as a very important friend.