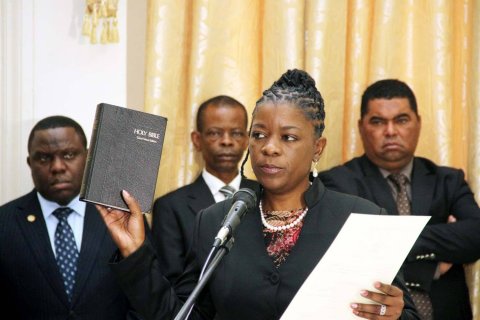 President Edgar Chagwa Lungu has sworn in newly appointed Southern Province Permanent Secretary Sibanze Simuchoba, Zambia's High commissioner to Kenya Brenda Muntemba and Chiefs and Traditional affairs Permanent Secretary Bernard Pwete at State House today.
Speaking after the swearing in ceremony at State House, President Lungu urged Mr. Pwete, Mr. Simuchoba and Ms. Muntemba to work hard in their new positions.
The President urged Mr. Pwete to ensure that the Ministry of Chiefs and Traditional Affairs plays a pivotal role in creating a rapport between traditional leaders and government.
He noted that Mr. Pwete is expected to enhance the role that chiefs play in the preservation of nature and culture since he was not new in the ministry.
The Head of State pointed out that there was need to support the traditional rulers in their effort to protect flora and fauna in the country.
Meanwhile, President Lungu has called on newly appointed Southern Province Permanent Secretary to ensure that all developmental projects in the province were completed on time.
He said he was also aware that Livingstone main bus station and main market were not in a good state hence Mr. Simuchoba should put these two areas top on his agenda.
President Lungu has meanwhile urged Ms. Muntemba to see how the cooperation between Zambia and Kenya will benefit the country.
He said Zambia can learn a lot from Kenya's tourism and agricultural industry and use it for the growth of the local economy.
Mr. Lungu has since congratulated the appointees saying he was confident that they will execute their duties diligently.