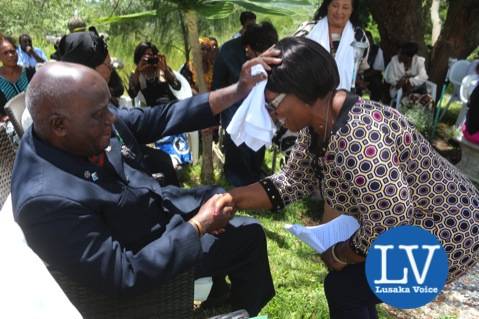 First republican president Kenneth Kaunda has been admitted at Lusaka Trust Hospital for a routine medical check-up.
Senior Executive Officer in the Office of the First President Cheswa Silwizya confirmed in a statement released to ZANIS in Lusaka today.
Ms. Cheswa said Dr. Kaunda's was admitted yesterday.
She assured the nation that Dr. Kaunda's hospitalization is purely precautionary because of his age and that the family wants him to remain in good health.
"Dr. Kaunda will be turning 91 years old on Tuesday April 28, 2015 and the doctors and family want to ensure that he remains in good health. The Office of the First President and the family wish to assure the nation that Dr. Kaunda's hospitalisation is purely precautionary given his age," Ms. Cheswa said.
She said doctors attending to First President have recommended that he undergoes a check-up following a very busy local and international schedule during the past three months.
Dr. Kaunda was a special guest at the 25th independence anniversary of Namibia on 21st March, 2015 which also coincided with the inauguration of that country's new President, Dr. Hage Geingob.
Dr. Kaunda also travelled to Johannesburg, South Africa to attend a three-day meeting dubbed, "The champions for an AIDS-Free generation".