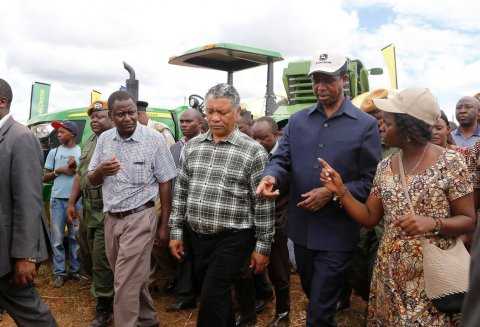 ESTHER MSETEKA, NOMSA NKANA & JACK ZIMBA, Chisamba
PRESIDENT Lungu says he will look into the possibility of creating a stand-alone ministry of livestock and fisheries.
Meanwhile, President Lungu and former Vice-President Guy Scott met at the Agritech Expo and exchanged pleasantries.
And Mr Lungu has called for more research in crop farming in order to overcome challenges of global warming such as unpredictable weather.
He said this yesterday after touring stands at the Agritech Expo organised by the Zambia National Farmers Union (ZNFU) in Chisamba.
Some stakeholders have been calling for the splitting of the Ministry of Agriculture and Livestock, saying the component that deals with livestock and fisheries does not get a fair allocation of funding.
President Lungu said Government is ready to discuss the issue and if need be, it will be implemented as he is not afraid of breaking away from the traditional way of doing things and setting up new standards.
"This is what we are calling for in Parliament. We are calling for the separation. I think it is true because looking at Honourable Given Lubunda's ministry, it's almost skewed towards agriculture – that is crop – compared to livestock.
"But if need be, we are not afraid of breaking away from tradition and setting new standards. We will discuss with the minister, Cabinet and so on. It is food for thought," he said.
And the President said what the county is experiencing is unpredictability of weather patterns, adding that with  research and support from the Ministry of Agriculture and Livestock and Zambia national Farmers Union (ZNFU), a solution can be found.
"I don't believe we'll go hungry. It is raining here. God is only challenging our intellect, but when we all put our heads together, a solution will be found," he said.
The President, who toured some stands, also encouraged farmers merchanise in order to increase production.
"This is the kind of technology Zambians should embrace because it encompasses a whole spectrum of the Zambian farmers from the least to the most funded.
"If our peasant farmers could tap into the research and expertise that ZNFU has, I am sure we will do better," he said.
And President Lungu said he was happy to see Dr Scott,  whom he said he last saw when he (Mr Lungu) was being inaugurated as head of State.
"I'm happy to see Dr Scott. I know some people thought we had fallen out but that is not the case. He is still my boss," he said.
And ZNFU president Evelyn Nguleka said the livestock sector has the potential to contribute not only to national development but also to food and nutrition.
"We believe that if we can have a ministry that is dedicated to livestock and fisheries, they will have their own budget, research system that can feed into the farmers, and then we will achieve a lot as a country," she said.
Dr Nguleka said it is encouraging to witness more farmers from across Africa taking part in the Expo.
The Agritech Expo, which closed yesterday, was held at Golden Valley Research Trust farm in Chisamba and attracted over 100 local and international exhibitors.
Credit – Zambia Daily Mail
Pictures by EDDIE MWANALEZA