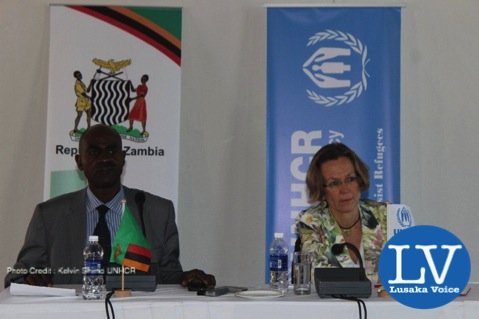 UNHCR Representative in Zambia, Ms Laura Lo Castro, has commended Zambia for embracing co-existence, after years of hosting migrants and refugees.
Featuring on a Zambia National Broadcasting Corporation (ZNBC) TV2, Morning Live programme, under the topic, Unite Africa, on Friday 17 March 2015, Ms Lo Castro commended the political and traditional leadership in Zambia for fostering unity for several years now.
The UNHCR Representative, who touched on a wide range of issues concerning migration, refugees and xenophobia, expressed sadness at the recent xenophobic attacks in some parts of South Africa.
"We are concerned because this can happen anywhere in the world, as the issue of migration is a global phenomenon. But we are happy with the stance taken by the Government and President Jacob Zuma calling for co-existence, and acknowledging the fact that South Africa was a rainbow nation hosting many migrants and refugees who have positively contributed to the South African economy in different ways," said Ms Lo Castro.
She observed that the problem of xenophobia was not unique to South Africa, as the movement of people is a phenomenon affecting the entire world and cannot be stopped, attributing it to a number of factors, such as war and conflict, persecution, natural disasters and climate change and economic recession.
"The situation in South Africa should be a lesson to all of us to see how we can solve this issue and prevent it from happening in Zambia and other countries in Africa. We are happy that many countries in Africa are also concerned with what is happening in South Africa. This is positive and what we have to do as society is to discuss this matter openly and seek solutions," She explained. "Usually, xenophobia is driven by wrong perceptions – fear of the unknown. As such, more dialogue and dissemination of objective information would greatly help. In addition, as often foreigners (migrants and refugees) end up working in areas where there is limited local capacity interest, this situation, if acknowledged and well managed, could help Governments to regulate and manage migratory flows to the advantage of societies."
The UNHCR Representative advised that xenophobia should not be fought with xenophobia, but through dialogue.
"Let's have dialogue and not boycott South African shops. Of course, if authorities allow, and it's within the law, we can have a rainbow demonstration involving Zambians and foreigners living in Zambia to manifest and in support of Ubuntu and Tiyende Pamodzi concept," she advised.
In her preamble, she explained in detail the difference between refugees and other migrants, saying refugees were those who crossed borders fleeing from a legitimate concern, such as persecution or war.
"These people flee because they cannot be availed protection by their country of origin. They flee because they have no choice, and have to be protected by the host country, especially those that have signed the 1951 UN Refugee Convention, though some countries may have some specific reservations."
The same programme featured Ministry of Home Affairs' Office of the Commissioner for Refugees Senior Legal Advisor Mr. Katele Mutinta Kalumba.
Mr. Katele said the Xenophobia situation in South Africa was a sad one. "As President Jacob Zuma said it goes against the principles of Human Rights and Ubuntu within which the South African Constitution is enshrined. For ourselves as a nation, we need to take this as a lesson and constantly remind ourselves of the principles advocated by our forefathers of "One Zambia, One Nation". We need to remember these principles that guide us as Africans in order to better our attitudes towards refugees and other persons of concern in our country."