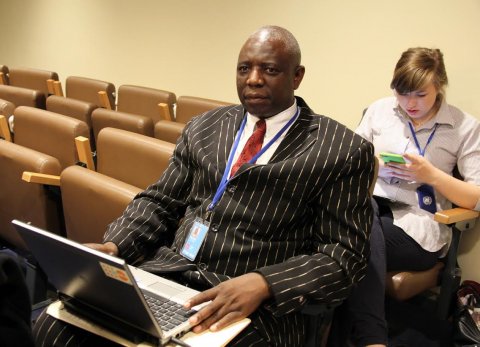 NEW YORK, Friday, 17 April, 2015 – A University of Zambia lecturer says the demographic transitions in developing countries, including Zambia, require economic policy reforms that focus on investment in education, health and entrepreneurship to create wealth and decent jobs.
Speaking on the panel discussion during the 48th Session of the Commission on Population and Development (CPD48) at UN Headquarters in New York, Professor of Demography and assistant Dean – Research at UNZA, Jacob Malungo emphasized the importance of creating wealth and decent jobs for the future populations that enter the labour market.
The panel discussion focused on "Integrating population issues into sustainable development".
"To increase investment there is need to change towards behaviours promoting more savings and at the same time use environmental-friendly practices, especially use of clean energy, and not fossil like charcoal and coal," Prof. Malungo said. "This entails combating poverty which does not only affect demographic issues such as increase child and maternal mortality and adolescent fertility but promotes use of harmful practices on the environment to gain survival."
He said population was an agent for and beneficiary of development.
Prof. Malungo said demographic changes should be accompanied by policies that empower all people by creating more inclusive, cohesive and accountable institutions and societies.
"In integrating population issues into sustainable development, it is important to realize that the consumption and reproductive patterns of the population should be in consonance with the production opportunities and patterns," the UNZA lecturer said. "The world population of 7.2 billion in mid-2013 is projected to increase by almost one billion people within the next twelve years. It is projected to reach 8.1 billion in 2025, and to further increase to 9.6 billion in 2050 and 10.9 billion by 2100."
Other speakers on the panel were Stony Brook University Professor and Population Council senior associate Mark Montgomery, Indian Institute of Management in Bangalore Professor of Public Health Gita Sen and Professor of Sociology and Environment and Society Programme at University of Colorado at Boulder Lori Hunter.
The Commission on Population and Development 48th Session, where Zambia is currently Vice-Chair, invited Prof Malungo to participate on the panel.
Issued by:
CHIBAULA D. SILWAMBA (Mr.)
First Secretary for Press and Public Relations
Permanent Mission of the Republic of Zambia to the United Nations