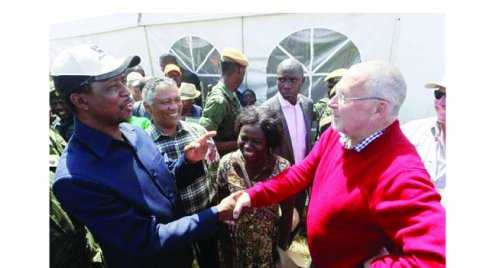 President Edgar Lungu says he still has strong ties with Former Republican Vice President Guy Scott.
Mr Lungu said he has never broken ties with Dr Scott after he ascended to the Presidency in the January 20 presidential by-election.
The Head of State said he still has a good working relationship with the former Vice President in Late President Michael Sata's administration.
President Lungu said Dr Scott was still his boss and that those wishing for a broken working relationship between them will be disappointed.
Mr Lungu said this when the two met at the Zambia National Farmers Union (ZNFU) Agritech exposition at the Golden Valley Agricultural Research Trust in Chisamba today.
Mr Lungu expressed happiness at seeing Dr Scott for the first time since his inauguration.
Dr Scott was Acting Republican President during the transition period following the death of President Sata last October.
Dr Scott attended the agricultural exposition as a member of the farming community.
And President Lungu has warned opposition political parties that they should brace to face a renewed and strengthened PF in the 2016 general elections.