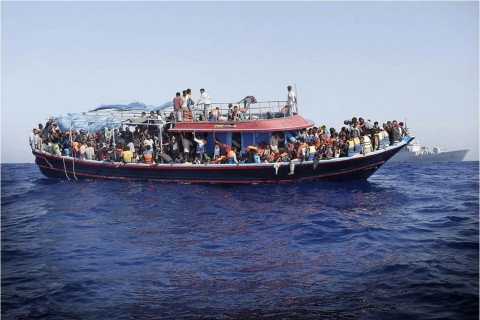 (CNN)They were huddled in the back of a tugboat. Some were without shoes. Their coats and jackets, still wet, were piled up in a huge container behind them.
The 117 migrants, mostly from sub-Saharan Africa, arrived in the port of Augusta, Sicily, around 1p.m. Tuesday, after being picked up by the tugboat off the coast of Libya.
The two boats they had been in were barely seaworthy, the tug's Montenegrin captain told me. The discarded coats, he said, would be thrown away.
Lost at sea
We had flown to Sicily from Rome following news that as many as 400 migrants had been lost at sea. The tragedy adds to the mounting death toll among those fleeing war and poverty in Africa and the Middle East.
So far this year as many as 900 have lost their lives. Last year at least 3,200 died making the journey. Since 2000, according to the International Organization for Migration (IOM), almost 22,000 people have died fleeing across the Mediterranean.
READ: Why migrants are dying to reach Italy
Thousands may have died, but even more have succeeded in making the treacherous journey. This small group in Augusta were among nearly 10,000 migrants who have arrived on Italian shores since the weekend, according to the Italian Coast Guard. With the onset of spring and calmer seas, it appears that the flow of migrants is not relenting.
The group, which included 31 women, was composed mostly of Nigerians and Gambians. As they filed off the boat, representatives of the Italian Red Cross did a quick visual inspection, checking for fever, scabies, any sign of illness. One woman, they discovered, was two months pregnant.
Photo Credit – (GIUSEPPE LAMI/EPA)