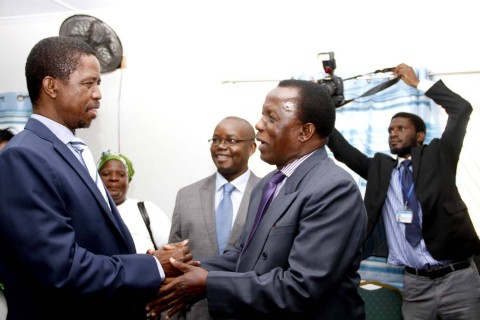 His Excellency Mr. Edgar Chagwa Lungu, President of the Republic of Zambia has appointed the Honourable Mr. Justice Esau Chulu as Chairperson of the Electoral Commission of Zambia (ECZ) subject to ratification by the National Assembly.
President Lungu has also appointed Ms. Emily Sikazwe and Mr. David Matongo as commissioners of the ECZ subject to ratification by the National Assembly. Justice Chulu is currently serving as a Commissioner on the ECZ. He will replace the Honourable Madam Justice Irene Mambilima who is now Chief Justice. Ms. Sikazwe will replace the late Ms. Minerva K. Tembo and Mr. Matongo will fill vacancy to be left by Justice Chulu.
"The two nominees are of high professional and personal integrity and I hope
they will work towards enhancing the impeccable credentials of the Electoral Commission. Justice Chulu has distinguished himself very well during his current tenure as Commissioner and during his earlier career on the Bench," the President said. "Ms. Sikazwe is a distinguished gender and governance activist and professional of high repute. Mr. Matongo is a well-known businessman and former lawmaker. I therefore have every confidence that my colleagues in Parliament will support the nominees."
Other serving members of the Commission are the Honourable Mr. Justice Christopher Mushabati and Dr. Fredrick Ng'andu.
Meanwhile, the President has re-appointed Professor Patrick Mvunga, SC, as Chairperson of the Judicial Complaints Authority (JCA) with the Honourable Mr. Justice Christopher Mushabati and Lusaka lawyer Mrs. Mwangala Zaloumis to continue as members.
The Head of State has appointed the Honourable Mr. Justice Martin Munyinda Imasiku and former ACC Director- General Mr. Nixon Banda as new members of the JCA. The President has also reappointed members of the Anti-Corruption Commission (ACC) board as follows: Hon. Mr. Justice Timothy A. Kabalata as
Chairperson; Dr. Steven P.C. Moyo (Vice Chairperson), and Pastor Godfrida Sumaili, Mr. Mpanzi Joubert Sinyangwe, and Mrs. Rollen Mukanda as commissioners.
The President has reminded the commissioners that corruption is a serious crime against development whose consequences are borne more by the by poor and vulnerable people.
"Bribes make basic services available only to those who are able to pay while huge corruption frauds are a cost to Government and undermine development. I want to make it clear that corruption is unacceptable in any form.
There is should be no selective application in how the ACC handles
cases of corruption," the President said. The Head of State has employed the ACC to deal effectively with corruption
complaints; ensure greater transparency and accountability and provide services in local languages in order for the greater majority of the people to engage with the Commission. The Government will render every support the ACC will need including the necessary legislation to consolidate the fight against corruption.Issued by: Amos Chanda/State House Press Office