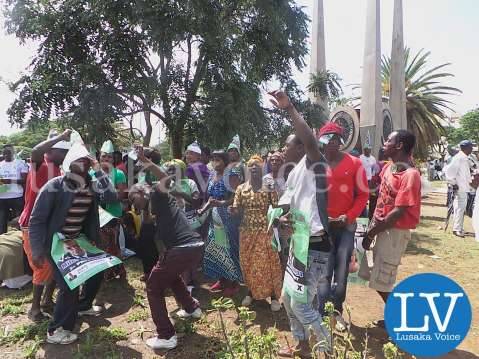 PATRIOTIC Front (PF) Lusaka Province chairperson Horace Longwe has urged the electorate in Chawama to vote for the ruling party's candidate Lawrence Sichalwe in next Tuesday's parliamentary by-election to ensure continuity in the implementation of development projects.
Mr Longwe said by-elections are about continuity and that it is important for Chawama residents to give the PF a chance to complete its five-year mandate to help foster development in the area.
He said in an interview yesterday that the forthcoming parliamentary by-elections are not about change but about continuing with the massive development projects that Government is implementing in Chawama.
"We are asking the people of Chawama constituency to rally behind the PF candidate in the forthcoming parliamentary by-elections.
"We have started seeing development in Chawama which was never there in the previous administrations and for these development projects to continue. We have to vote for the PF candidate because he is a local person who understands the challenges the people are facing in the area," Mr Longwe said.
He said Mr Sichalwe is the best candidate among all the other contenders and is capable of steering the constituency forward.
Mr Longwe said the PF administration will come up with new programmes that will greatly benefit the people of Chawama.
He said the PF is aware of the challenges that residents are facing and warned that the area will continue to lag in development if they vote for an opposition member of Parliament.
And PF Lusaka Province youth chairperson Kennedy Kamba commended the government for initiating and implementing various development projects in Luangwa.
Mr Kamba said in a separate interview that the PF youth wing is happy that the government has completed constructing Luangwa District Hospital and is working tirelessly to complete roads under the Pave Zambia 2000 project.
"We are also happy that erecting of poles from Leopards Hill to connect Luangwa district to the national grid has also started. When this area is connected to the national electricity grid, there will be development as you know Luangwa has been operating on a generator.
"We are, however, appealing to the government to stop bogus investors that are mining diamond and gold in the area because we want the indigenous people to benefit," he said.-Zambia Daily Mail