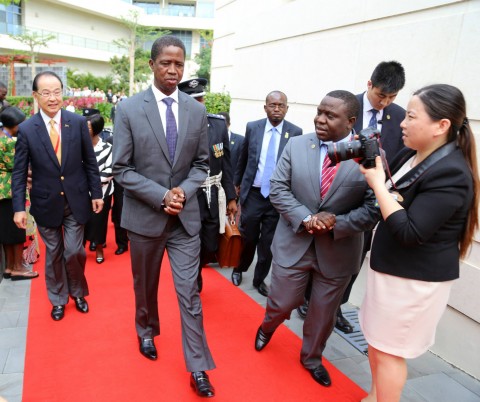 Press Conference by Minister of Foreign Affairs, Hon. Harry Kalaba attended by Special Assistant for Press and Public Relations, Amos Chanda and Foreign Affairs Permanent Secretary George Zulu. The press conference was called to highlight President Edgar Lungu's economic and sucessful visit to China.
Some of the successes of the trip regard funding to projects such as rehabilitation of TAZARA, setting up of Milling Capacity in all provinces, the Lusaka International Airport, the Solwezi-Jimbe Railway line to connect Zambia to Angola, the sum total of engagement and investment pledges amounting to $1.5billion so far has been made and will flow into the country immediately.
And President Edgar Lungu's has received so much goodwill
"Leaders across the world are fighting to meet the Chinese Premier and it's leadership. Within two months President Lungu was given an opportunity. The trip was an economic one that has brought economic benefits. A chain of President's are queuing up to meet us and visit Zambia. So the proportion of lies from Edith Nawakwi and Charles Milupi are surprising. They consciously lie and very often. The trips by President Lungu are necessary for this country "- Amos Chanda.