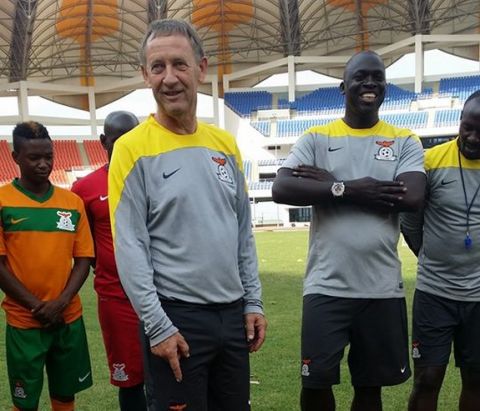 National Team Coach Honour Janza has strongly spoken out on issues surrounding his contract as Chipolopolo coach.
Janza says it is wrong for FAZ to discuss his contract before delegates at the AGM because the matter was a management issue.
Janza has told journalist at a post match interview that he has no problem being relieved of duties as Chipolopolo coach and challenged FAZ to go ahead and appoint a new coach.
He says it is not easy going into the match against Rwanda as a result of what has surrounded his contract as Chipolopolo coach.
FAZ President Kalusha Bwalya, told delegates at the FAZ Annual General meeting in Kabwe on Saturday that the association has decided to engage a foreign coach who will fit the profile of the national team.
Janza, who replaced Frenchman Patrice Beaumelle last August, qualified the Chipolopolo for the 2015 Equatorial Guinea Africa Cup of Nations.
Meanwhile, Rwanda Coach Johnny McKinstry says the game against Zambia has given him ideas of how to improve his team.
This follows Zambia's beating of Rwanda by 2 goals to nil in an international friendly match played at the Heroes National Stadium in Lusaka.
The Chipolopolo Boys dominated proceedings from the start but failed to find the back of the net in the first forty five minutes.
Their first scoring chance came in the 8th minute when skipper Rainford Kalaba's conner kick hit the top of the bar.
In the 38th minute, Kalaba's cross was saved by Rwandese goalie Oliver Kwizer after a good counter attack from the Chipolopolo.
Rwanda also squandered a chance to score in the 22nd minute but shot off target.
The second half started with Zambia dominating possession.
Zesco United top man, Justine Zulu saw his shot saved by Kwizera in the 50th minute.
Zambia's long awaited goal came in the 62nd minute when Kalaba taped in a cross from substitute Allan Mukuka.
Mukuka completed the day for Zambia when he scored in the 83rd minute to make it 2-nil.