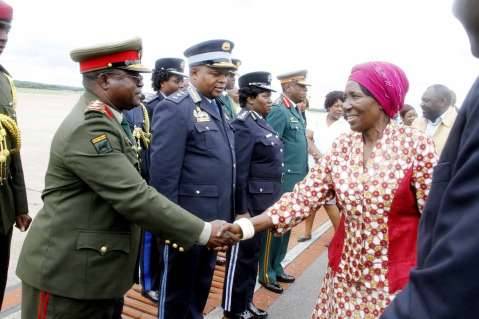 Acting President Inonge Wina has arrived in Ndola to receive the body of the late Patriotic Front (PF) Member of the Central Committee Willie Nsanda later in the afternoon.
Mrs Wina who touched down at Simon Mwansa Kapwepwe International Airport at 09:50hours aboard a Zambia Air force plane was companied by Community Development Mother and Child Health Minister Emerine Kabanshi and Deputy Minister in the office of the Vice President Steven Kampyongo.
The Acting President was received by Copperbelt Provincial Minister Mwenya Musenge, Copperbelt Permanent Secretary Howard Sikwela among other Senior Government officials and PF party leaders.
The remains of the late Mr Nsanda who died on Tuesday 24th March 2015 at Millpark Park hospital in South Africa after an illness are expected to be put to rest in Kitwe tomorrow.
President Edgar Lungu has since declared Monday, March 30 a day of national mourning in honour of Mr Nsanda who once served as a deputy minister in the MMD government when he was Member of Parliament for Chimwemwe constituency in Kitwe.