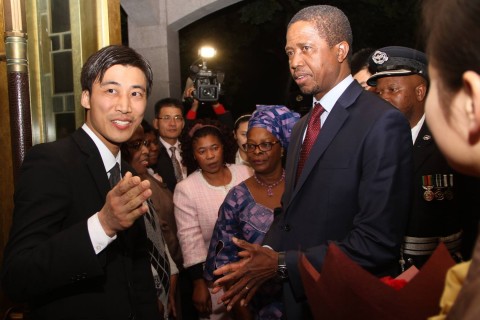 Cabinet has approved the acquisition of a US$65.5 million loan from the Export-Import Bank of China .
The loan will support financing of the Zambia National Information and Communication Technology Development Project.
Chief Government Spokesperson Chishimba Kambwili announced the development in a statement issued to ZANIS in LusakaMarch 26, 2015 on the decisions made Cabinet at its 4th Special meeting held March 25, 2015 at State House.
Mr Kambwili who is also Minister of Information and Broadcasting Services said the project is an important initiative to implement and enhance the development of the country's ICT industry.
The Minister said the project will involve the construction of a national data center and first class schools to improve ICT education in the country.
And in another development, Secretary to Cabinet Roland Msiska has announced that President Edgar Lungu has declared Monday, March 30, 2015 as a day of national mourning for the late Road Development Agency (RDA) Board Chairperson Willie Nsanda.
Dr Msiska said the one day of national mourning will be observed on the day Mr Nsanda will be put to rest and that all functions of entertainment nature should be cancelled or postponed.
He said that during the national mourning period which shall run from 06.00 hours to 18.00 hours, all flags will fly at half-mast and only solemn music shall be played.
Mr Nsanda who passed away on Tuesday, 24th  March at Millpark Hospital in Johannesburg South Africa, served as deputy Minister in the MMD government.
His remains will be brought back from South Africa on Sunday March 29, and arrive at Simon Mwansa Kapwepwe International Airport in Ndola before being transported to Kitwe by road .
The funeral will be held at his residence in Garnerton.