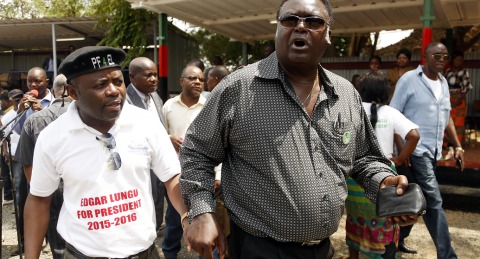 Patriotic Front (PF) Secretary General Davies Chama has described the late Willie Nsanda as a lively and effective strategist whom the party will find difficult to replace.
Mr Chama said PF was greatly indebted to the late Nsanda and would miss him as he was a cardinal asset to the party.
He was speaking at the requiem mass held for the late Nsanda at Thom Kight Chapel in Johannesburg this afternoon.
Mr. Chama said Mr. Nsanda was a strong and dependable leader in whom other politicians saw immense value.
"He was truly action-oriented and passionately a man of the people. The party has indeed lost a gallant fighter who will be greatly missed. On behalf of the President, we are greatly saddened by the loss of Mr. Nsanda," said Chama.
And Zambia's High Commissioner to South Africa Muyeba Chikonde said those who came into contact with the late Nsanda will always have fond memories and miss him.
The church service was also attended by the late Nsanda's father, other family members, Zambians living in Gauteng Province and staff from the High Commission.
This is according to a statement made available to ZANIS by Press Secretary at the Zambian High Commission in South Africa, Nicky Shabolyo.
Mr Nsanda said in Millpark hospital in Johannesburg on Tuesday after an illness and his body will be flown back to Zambia on Sunday, March 29.
President Edgar has declared Monday, March 30 a day of national mourning in honour of Mr Nsanda who was PF Central Committee member and also served as a deputy minister in the MMD government when he was Member of Parliament for Chimwemwe constituency in Kitwe, where he served for two terms.
Photo Credit – The Post