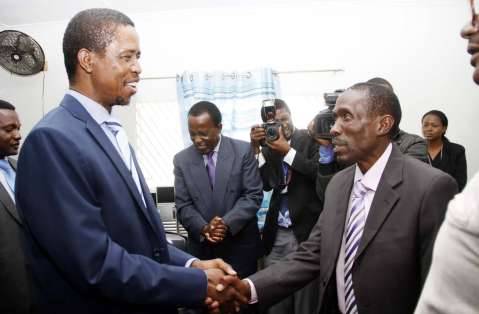 Anomalies spotted on Senga Hill, Chawama ballot papers
Anomalies on the ballot papers for Senga Hill and Chawama Constituencies have been spotted by political parties during the verification exercise today ahead of next month's parliamentary and local government by –elections.
The representatives of political parties present during the verification exercise were from UPND, UNIP, FDD and PF.
UPND Representatives noted that the color for covers for the ballot papers for Chawama and Senga Hill Constituencies were swapped.
But ECZ Public Relations Officer Raphael Phiri assured representatives that the commission will sit down with political parties taking part in the by-election and correct the mistake.
Mr. Phiri says this is the more reason why verification exercise is very important so that there are no suspicions.
And Mr. Phiri has disclosed that the ballot papers for the by-election will be dispatched on 9th April, 2015 to various constituencies.
And speaking to journalists during the verification exercise, political party representatives highlighted the importance of the verification exercise.
UPND Representative Emeldah Bwalya says her party wants to ensure that what was received is what will be dispatched to various constituencies.
PF Representative John Phiri says the process is important so that the elections are transparent.
And UNIP director of elections Henry Silumesii says his party is confident that there will be no confusion during the by-election as long as mistakes which might have been spotted are corrected.
QFM NEWS