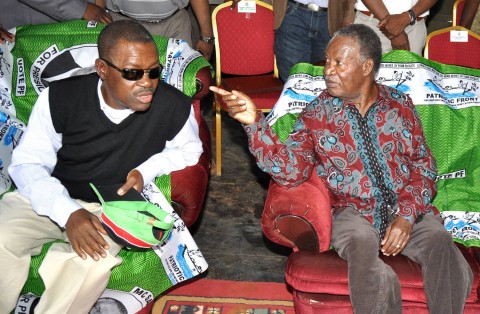 The Lusaka Magistrate court briefly detained Rainbow Party President Wynter Kabimba and Post Newspapers Owner Fred M'membe before the two were released on bail.
This is in a matter where former President RUPIAH BANDA has dragged them to court for contempt and defamation.
Meanwhile, Mr. M'membe was strongly reprimanded after he referred to the charges against him as foolish.
This was after rendering an apology and indicating that its was not his intention to committee the offence.
And attempts by the defence to have the mattered sent to the High Court for constitution determination failed.
Lusaka Magistrate Kenneth Mulile also refused the defence's request to have the accused persons acquitted on account that former President Rupiah Banda who is the complaint was not in court.
Mr. M'membe and Mr. Kabimba has pleaded not guilty to the charge after the court ordered that they take plea following the dismissal of their applications.
The matter has since been adjourned to April 27th for commencement of trail.
And on a sad note, retired High Court Judge, Justice Cosmas Kabamba has died.
Justice Kabamba died on Monday in Ndola.
Funeral and burial arrangements will be communicated later.
This is according to a statement released to ZNBC News in Lusaka by Judiciary Public Relations Officer Terry Musonda.
Justice Kabamba once served as Ndola High Court Judge in Charge.
ZNBC