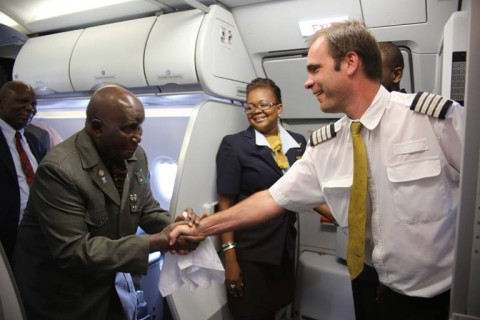 PRESIDENT Edgar Lungu arrived in Namibia Thursday ahead of today's inauguration of the country's third President, Hage Geingob, who takes over from Hifekepunye Pohamba.
The event will also coincide with celebrations to mark Namibia's 25th Independence to be held at the Independence Stadium in the capital, Windhoek.
Zambia's High Commissioner to Namibia, Sylvia Chalikosa said during a media briefing that President Lungu would be accompanied by Foreign Affairs Minister Harry Kalaba and other senior Government officials.
President Lungu would join his counterparts from different countries that had been invited to join in the celebrations.
Zambia's First Republican President Kenneth Kaunda arrived on Wednesday along with former ministers for Foreign Affairs Vernon Mwaanga and Felix Mutati for Commerce Trade and Industry, who had all been invited by the Namibian Government.??Former President Rupiah Banda had also been invited and is was expected to arrive this yesterday afternoon.
Ms Chalikosa said President Lungu would join other leaders to attend a State banquet hosted by the outgoing President, Mr Pohamba, similarly Dr Geingob would host the guests for a luncheon on March 20th tomorrow
"The invitation of President Lungu and other high-profile Zambians, among them Dr Kaunda, signifies the respect that Namibia shows to Zambia and the historic ties that have continued for a long time between the two countries.
Dr Kaunda hosted most of the leaders including Mr Pohamba and Dr Geingob, who stayed somewhere in Kamwala for a long time during the liberation struggle," she said.
The invitation also pointed to the promotion of trade ties with Namibia which had access to the Atlantic Ocean through Walvis Bay which Zambia could utilise.
She said the Namibian Government had allocated the country a dry-port at Walvis Bay which was currently being under-utilised by Zambian business owners.
"We need to increase sensitisation of the dry-port which we have been allocated at Walvis Bay so that we could utilise this portion for the benefit of improved trade with the outside world," she said.
 Times
Picture by ALEX
MUKUKA/ZANIS