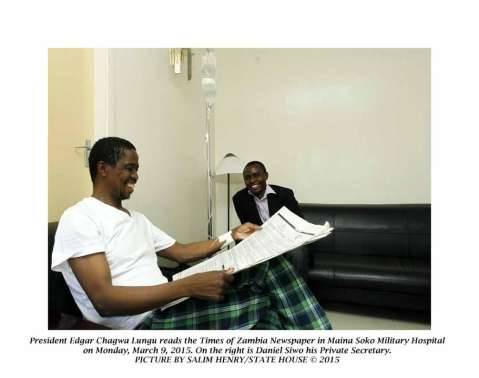 20:15PM ZAMBIAN TIME
Lusaka, (Monday, 9th March 2015) — His Excellency Mr. Edgar Chagwa Lungu, President of the Republic of Zambia who fell ill on Sunday, March 8, 2015 whilst officiating at the International Women's Day has left hospital to complete the resting regime prescribed by doctors.
The President has been treated for the low blood sugar level that emanated from the suspected recurrence of the narrowing of the food pipe (a condition medically known as Achalasia), for which he was previously
treated 30 years ago at the University Teaching Hospital. The President was also treated for fatigue and traces of malaria parasites that were initially suspected.

As a result of the suspected recurrence of his Achalasia condition which could have led to the low sugar level the President experienced, doctors have recommended that President Lungu undertake specialised treatment abroad.
The Presidency is evaluating the advice and will tomorrow decide when the President undergoes the recommended treatment.
The seven doctors attending to the President reached a consensus that they were satisfied that the President was in enough good condition to return home. They emphasized that the President takes sufficient rest to help clear his high levels of fatigue.

This statement has been authorized by Dr. Dorothy Kasonde and Dr. Dave Kishore on behalf the other doctors attending to President Lungu.
Issued By:
Amos Chanda
SPECIAL ASSISTANT TO THE PRESIDENT
(PRESS & PUBLIC RELATIONS)