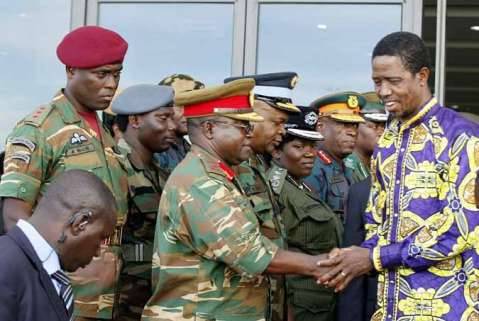 LUSAKA, ZAMBIA — Malaria was not the cause of the Zambian president's collapse during a public ceremony over the weekend, officials said on Monday.
Zambian President Edgar Lungu was delivering a speech to commemorate International Women's Day at Heroes Stadium in the capital Lusaka on Sunday when he felt ill. Lungu excused himself from the podium and then collapsed. A snap diagnosis revealed malaria and fatigue, a statement following the incident said.
But further medical test ruled out malaria, which can be a deadly disease, said Amos Chanda, the president's assistant. Lungu was admitted to the Maina Soko Military Hospital where observation and treatment showed that the president's blood sugar levels had dropped significantly which led to his collapse, Chanda said in a statement.
Lungu has a history of a condition that narrows his esophagus, or food pipe, which led to his low sugar levels. The condition, known as achalasia, was first treated 30 years ago and has recently recurred, Chanda said.
Soon after being admitted to the hospital, Lungu assured his supporters that he was recovering well.
"The president is in good condition and the nation shall be informed on further developments," said Chanda.
Read more here: http://www.thestate.com/2015/03/09/4034271/zambian-officials-presidents-collapse.html#storylink=cpy