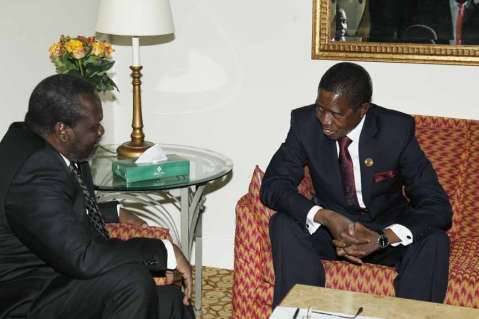 Zambia's credible record in mediating and brokering peace in Africa has caused President Edgar Lungu to have a task of negotiating for peace between warring parties in South Sudan, a few days after his election as head of state.
President Salva Kiir of South Sudan and that country's rebel leader, Rieu Machar, requested President Lungu to intervene in the crisis they are facing.
Special Assistant to the President for Press and Public Relations, Amos Chanda told Zambian journalists in Addis Ababa yesterday that President Lungu has since accepted to intervene in the mediation process.
Yesterday, President Lungu separately held closed meetings with Mr. Kiir and Mr. Machar at Sheraton Hotel in Addis Ababa.
Mr. Chanda said during the meeting, President Kiir expressed gratitude that Mr. Lungu would intervene in the conflict.
He said Mr. Kiir asked President Lungu to exert whatever effort Zambia can use to try and help the rebel leader to come to the negotiating table.
"South Sudan says Zambia has a credible record in peace and mediation efforts and at one time Dr. Kaunda (former President) did mediate in the Sudan crisis," Mr. Chanda said.
He explained that it was from this background that President Kiir and the rebel leader think that President Lungu, who they earlier dealt with as Minister of Defence, could intervene in South Sudan.
President Lungu has since directed Minister of Foreign Affairs and Mr. Chanda to get contacts of the differing parties which has since been done.
Currently, there is an on-going mediation process by IGAD, which is a regional group mediating in the peace process.
President Uhur Kenyatta of Kenya, Yoweri Museveni of Uganda and Prime Minister of Ethiopia Hailemariam Desalegn are already involved in the mediation process.
The South Sudan rebel leader, Riue Machar, was President Salva Kiir's Vice President but the two differed early last year, forcing the former to rebel against his boss and caused bloody war in the country.