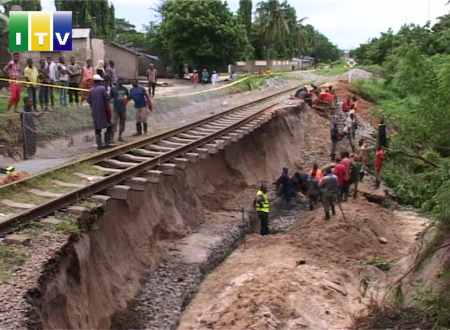 Dar es Salaam, Tuesday 27 January 2015 – The new Minister of Transport (Tanzania), Hon Samuel Sitta says he cannot believe or accept that an institution of the size and magnitude of TAZARA can fail to perform, let alone fail to pay its employees' salaries, with all the huge volumes of freight that was abundantly available in Tanzania, Zambia, Congo DR and other countries in the region.
He said that he was aware that there millions of tonnes of cargo waiting to be moved by TAZARA and there were companies that were eager to move their freight on the raiway.
The Minister requested the workers to give him at least two months to sort out the problems of TAZARA, adding that he believed he had the capacity and ability to resolve the issues once and for all.
"We have this very beautiful facility (TAZARA). It should be working. (Yet) it is not. We are being made to look disorganized. How come we have a railway line which is so under utilized?
"As a result, our two governments have even to pay the (employees') salaries! Tanzania and Zambia should be receiving dividends, but it's the other way round. The whole world is looking at us and they think there is something wrong with us. I am determined to correct this. That is why I have come here." Hon. Sitta said.
The Minister was speaking when he visited TAZARA head office (Tuesday 27 January 2015) and addressed management and the workers' union executive officials.
TANZANIA-ZAMBIA RAILWAY AUTHORITY