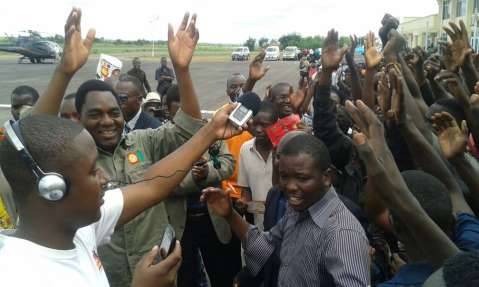 United Party for National Development (UPND) candidate Hakainde Hichilema has scooped both Monze Central and Moomba constituencies after polling a total of 29,661 followed by Patriotic Front (PF) candidate Edgar Lungu who polled a total of 1,197 votes in the two constituencies.
Monze Central constituency Returning Officer Dedu Mwense announced the results  around 16:30 hours today .
Mr Mwense announced that in Monze Central the UPND candidate polled 21, 385 against the PF Candidate who got 1,097 votes.
He said the  two opponents were followed by Forum for Development and Democracy(FDD) candidate  Edith Nawakwi who got 88 votes, United National Independence Party(UNIP) candidate Tilyenji Kaundu who polled 78 votes, followed by Movement for Multi-Party Democracy (MMD) candidate who got 71 votes.
National Restoration Party (NAREP) candidate Elias Chipimo  polled  47 votes, 4th Revolution Party candidate Eric Chanda got 40 votes and Heritage party 's (HP) Godfrey Miyanda got 34 votes.
The Christian Democratic Party (CDP) candidate Daniel Pule and Forum for Democratic Alternatives (FDA) candidate Ludwig Sondashi both got 6 votes apiece, and the Greens candidate Mr. Peter Sikamba polled 4 votes.
Mr. Mwense said a total of 23,031 votes were cast in the 56 polling stations in Monze Central Constituency while 175 were rejected ballot papers adding that there were no disputed ballot papers.
In Moomba constituency which has 19 polling stations UPND's   Hichilema polled 8,276 votes followed by the PF''s candidate Edgar Lungu who got 100 votes.
UNIP got 49, 4R got 27, NAREP 25, FDD 16, MMD 11, HP 10, FDA 7,  CDP 4 and GREENS 2.
Moomba constituency Returning Officer Patrick Kaapale who announced the results  said a total of 8,602 votes were cast and  75  ballot papers were rejected as invalid.
By press time, totalling of votes was still on-going in Bweengwa constituency and results are expected late tonight.
Monze District has about 78,000 registered voters in the three constituencies namely Moomba, Monze Central and Bweengwa.