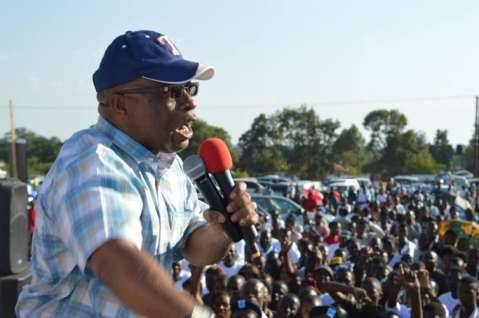 THE MMD has pleaded with its Members of Parliament (MPs) endorsing the candidacy of United Party for National Development (UPND) leader Hakainde Hichilema to get back to supporting the former ruling party's Nevers Mumba in the January 20, 2015 presidential election.
MMD acting national secretary Mwansa Mbulakulima said it was not too late for the parliamentarians to revert to supporting Dr Mumba since the campaigns were only reaching their peak.
"All the true sons and daughters of the MMD must come back and support the party's candidate Dr Nevers Mumba. We are offering an olive branch to all of them," he said.
Mr Mbulakulima said that the alliance with UPND was started by Dr Mumba and the agreement was that each party would go it alone in the election and that the only obstacle was the purported adoption of former president Rupiah Banda.
He warned that should the MPs remain stubborn, the party would have no choice but invoke the law on a parliamentarian who crosses the floor.
The actions of the parliamentarians endorsing Mr Hichilema have repercussions that attract disciplinary action.
Meanwhile, MMD MPs supporting the candidature of Mr Hichilema have distanced themselves from Friday's national executive committee meeting that endorsed Patriotic Front president Edgar Lungu.
The MPs, who were led by MMD national chairperson Kabinga Pande, said those that endorsed Mr Lungu were, therefore, doing so in their individual capacity and accused them of having been promised personal benefits by the PF.
Mr Pande said no NEC meeting could be held in the absence of MMD president Nevers Mumba and himself as national chairperson.
They have information that the PF had promised to give back the MMD motor vehicles which were seized when the PF took over power.
Mr Pande said at a Press briefing held at Radisson Blue Hotel in Lusaka yesterday that the purported NEC meeting did not take place but he had information that the conveners of the meeting had been holding secret meetings with the PF and all they wanted was to call other people to rubber-stamp the endorsement of Mr Lungu.
The alleged meeting, which was called by expelled MMD national secretary Muhabi Lungu, was illegal.
He was flanked by MMD Ikelenge MP Elijah Muchima, Keembe MP Ronnie Shikapwasha, Rufusa MP Kenneth Chipungu, former Kafue MP Bradford Machila and Lufwanyama MP Annie Chungu.
Mr Pande said the meeting of November 16, 2014 where Dr Mumba was in attendance did not put up the endorsement of Mr Lungu as an option.
Times of Zambia