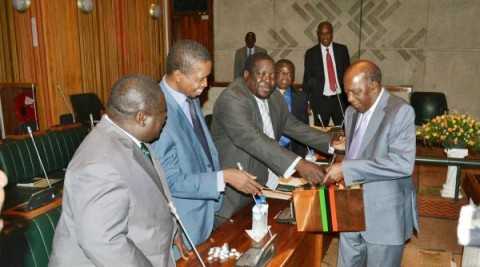 MINISTER of Local Government and Housing Emmanuel Chenda should be commended for joining other senior Patriotic Front (PF) members endorsing party president Edgar Lungu for the presidency, Patriotic Front (PF) secretary general Davis Chama has said.
Mr Chama said in a statement yesterday that Mr Chenda, who is PF national treasurer, showed political maturity when he joined other senior PF members in supporting Mr Lungu's campaign team.
"Other PF senior members that have endorsed and joined Mr Lungu include Kabwata MP Given Lubinda, Chishimba Kambwili (Minister of Youth and Sport), Wylbur Simuusa (Minister of Agriculture and Livestock) and Mulenga Sata (Lusaka Mayor)," he said.
Mr Chama said these members have shamed critics of the ruling party and effectively shown that PF is founded on maturity and unity.
Mr Chama also urged  members still standing on the "fence" to be brave and join the "winning team" of Mr Lungu.
"Following the resounding success and huge turn-out at the inaugural rallies, our party President Edgar Lungu received in Kitwe and Mansa recently, we are stepping up the gear and holding two more rallies," Mr Chama said.
He also said Mr Lungu will this Saturday hold a rally in Mongu, where he is expected to make a number of pronouncements regarding what the party is doing for the region and plans to do in future.
Mr Chama said it must be noted that Mr Lungu enjoys a good relationship with the people of  Western Province and Litunga Imwiko Lubosi II, who recently honoured him with the presentation of a royal walking stick to guide him in his leadership path.
After the Mongu tour, Mr Lungu will on Sunday hold another rally at Mandevu grounds in Lusaka.
He said the Mandevu rally will mark the beginning of the several rallies Mr Lungu is expected to hold in Lusaka as he steps up his national campaign.
"Our unity is unquestionable and it is this unity that gels us to the people and shall subsequently win us the January 20 poll so that we can bring to a conclusive end our many productive development projects," he said.
And Mr Chama said the intra-party democracy in PF should not be construed as divisions.
"For example our treasurer, Mr Chenda has been part of our planning meetings. He is PF. We have all started working together as one unit," he said
Mr Chama said he is very happy to see all those who were seemingly opposed to Mr Lungu's candidature as PF president come on board.
"Mr Chenda was even debating and contributing to our planning meeting. No one harassed him," Mr Chama said
Mr Chama said there has been propaganda that those opposed to Mr Lungu's presidency are being harassed.
"We are a civil party and respect our intra-party democracy," he said
And Mr Chama has cautioned Zambians to disregard cheap propaganda being pushed by an extremely bitter section of the media.
Mr Chama said the bitter media are upset because Mr Lungu has refused to be 'owned' and controlled by sectional interest.
Zambia Daily Mail