SPEECH DELIVERED BY HON. EDGAR CHAGWA LUNGU AT LAUNCH OF THE NATIONAL CAMPAIGN AT FREEDOM PARK IN KITWE ON 6TH DECEMBER 2014
SALUTATIONS
THE NATIONAL CHAIRPERSON- MRS INONGE WINA
MEMBERS OF THE CENTRAL COMMITTEE
CABINET MINISTERS
MEMBERS OF PARLIAMENT
OUR VIEWERS WATCHING US BY TELEVISION AND LISTENING TO US ON RADIO
MEMBERS OF THE PRESS
LADIES AND GENTLEMEN
MAY I FROM THE OUTSET THANK ALL MEMBERS OF OUR PARTY FROM ALL CORNERS OF OUR COUNTRY, PARTICULARLY THOSE THAT ATTENDED OUR EXTRA-ORDINARY GENERAL CONFERENCE WE HELD ON THE 29TH AND 30TH NOVEMBER 2014 FOR HAVING ELECTED ME AS PARTY PRESIDENT OF OUR GREAT PARTY TO TAKE OVER FROM OUR LATE PRESIDENT MICHAEL CHILUFYA SATA.
LET ME TAKE THIS RARE OPPORTUNITY TO ASSURE YOU THAT THE TRUST THAT YOU HAVE PUT ON ME IS WELL PLACED AND I ACCEPT THE HONOR BESTOWED ON ME WITH HUMILITY AND COURAGE TO FACE THE CHALLENGES AHEAD.
IT IS NOW TIME FOR THE PARTY TO MOVE FORWARD IN UNITY. WE HAVE SUCCEEDED THROUGH MANY BATTLES. BUT THE WAR WE FACE IN THE NATIONAL ELECTION CAN ONLY BE WON IN UNITY.
THE SYMBOL OF OUR PARTY IS A REMINDER OF OUR CONTINUED QUEST FOR UNITY. THE CLENCHED FIST SYMBOLIZES UNITY OF PURPOSE AND STRENGTH. INDIVIDUAL FINGERS ARE ONLY EFFECTIVE WHEN CLENCHED TOGETHER.
OUR FOUNDER AND BELOVED PRESIDENT, MR. MICHEAL CHILUFYA SATA, MAY HIS SOUL REST IN PEACE, WORKED TIRELESSLY FOR 10 YEARS BUILDING THE PARTY. THE GREATEST DISSERVICE TO THE LEGACY OF OUR HERO WOULD BE TO DESTROY HIS WORK IN JUST A FEW WEEKS. WE REFUSE TO BE PART OF THIS DESTRUCTION AND WE CALL UPON ALL GENUINE MEMBERS OF OUR PARTY TO COME TOGETHER IN UNITY TO PURSUE OUR COLLECTIVE VISION.
WE RENEW MY CALLS TO ALL MY COLLEAGUES IN OUR GREAT PARTY: LET US PUT ASIDE OUR PERSONAL DIFFERENCES AND FOCUS ON THE BIGGER PICTURE, THAT OF FORMING GOVERNMENT IN 2015 AND REALIZING THE VISION OF OUR FALLEN HERO.
OUR PARTY WAS ELECTED INTO GOVERNMENT BARELY THREE YEARS AGO. WE WERE ELECTED ON THE BASIS OF OUR PRO-POOR MANIFESTO. THAT MANIFESTO IS AS VALID TODAY AS IT WAS IN 2011.
WE ARE HERE TODAY, TO LAUNCH OUR NATIONAL CAMPAIGN THAT WILL CONTINUE BUILDING ON THE WORK DONE SO FAR, BUT ALSO CREATE A NEW HOPEFUL FUTURE FOR OUR PEOPLE.
AS A PARTY WE ARE PROUD OF WHAT WE HAVE DONE SO FAR.THIS WILL BE USED AS A FOUNDATION FOR OUR WORK GOING FORWARD
THE PF GOVERNMENT HAD EMBARKED ON AN AMBITIOUS BUT ACHIEVABLE INFRUSTRUCTURE DEVELOPMENT PROGRAM
WE HAVE OPENED UP THE COUNTRY THROUGH THE LINK ZAMBIA 8000 PROJECT.
THIS FLAGSHIP PROGRAM OF OUR LATE PRESIDENT HAS SEEN NEW ROADS ACROSS THE COUNTRY UPGRADED TO BITUMINOUS STANDARDS.
WE ARE BUILDING HOSPITALS, CLINICS AND HEALTH CENTRES TO BRING HEALTH SERVICES TO OUR PEOPLE AND THEREBY SAVE LIVES,
WE HAVE PROJECTS AND PROGRAMS RUNNING IN OUR EDUCATION SECTOR. WE BELIEVE THAT EDUCATION PROVIDES AN OPPORTUNITY TO LIFT OUR PEOPLE OUT OF POVERTY. THE PF GOVERNMENT IS BUILDING UNIVERSITIES, COLLEGES AND SCHOOLS TO BRING EDUCATION NEEDS TO OUR PEOPLE.
THE PF GOVERNMENT HAS GIVEN COMPETITIVE SALARIES AND WAGES AND HAS IMPROVED CONDITIONS OF SERVICE FOR CIVIL SERVANTS. WE HAVE ALSO SET UP A BANK TO PROVIDE VERY LOW INTEREST LOANS SPECIFICALLY FOR CIVIL SERVANTS.
WE ARE PROVIDING WATER AND SANITATION PROJECTS THAT ARE AIMED AT BRINGING CLEAN AND SAFE DRINKING WATER TO OUR COMMUNITIES THEREBY REDUCING WATER-BORNE DISEASES
PROGRAMS ON AGRICULTURE ARE NOW BROADER. WE ARE, FOR THE FIRST TIME, DELIVERING FERTILISER TO DEPOTS ACROSS THE COUNTRY BEFORE THE ONSET OF THE RAIN SEASON.
OUR PRIORITIES
1. I UNDERTAKE TO RENEW THE SYSTEM OF GOVERNMENT TO MAKE IT RESPONSIVE TO THE ASPIRATIONS OF THE ZAMBIAN PEOPLE. I WILL WORK TO BUILD A STRONG SOCIETY
2. I UNDERTAKE TO BUILD A UNITED NATION
➢ WHERE ALL ZAMBIANS, WITHIN THEIR NATURAL AND SOCIAL DIVERSITY, WILL HAVE AN OPPORTUNITY TO CONTRIBUTE FREELY AND EFFECTIVELY TO THE GOVERNANCE AND SOCIO-ECONOMIC WELL BEING OF OUR COUNTRY;
➢ A COUNTRY WHERE ASCENDANCE TO POSITIONS OF POWER AND INFLUENCE IN GOVERNMENT WILL BE BASED ON INDIVIDUAL MERIT AND COMMITMENT TO THE COMMON GOOD OF OUR NATION.
3. FUEL PRICES- WE HAVE TO BRING THE PRICE OF FUEL SIGNIFICANTLY DOWN. WE HAVE TO REMOVE ALL BOTTLENECKS THAT MAKE OUR FUEL EXPENSIVE.
4. MEALIE MEAL PRICES- THIS REMAINS MY BIGGEST CONCERN. WE HAVE TO BRING THE PRODUCTION COSTS DOWN. WE WILL ESTABLISH MILLING PLANTS IN RURAL AREAS TO ENSURE THAT ONLY FINISHED PRODUCTS REACH TOWN. WE WILL ALSO LIAISE WITH STAKEHOLDERS
5. UNEMPLOYMENT- THIS IS THE BIGGEST CRISIS WE HAVE AS A COUNTRY AS MANY OF OUR YOUNG PEOPLE REMAIN UNEMPLOYED. WE HAVE TO BUILD ON PROGRAMS THAT WE STARTED THAT CREATE JOBS ESPECIALLY OUR INITIATIVES TO CREATE NEW INDUSTRIES IN RURAL AREAS THAT HARNESS OUR POTENTIAL AND ADD VALUE TO OUR PRODUCTS
6. PRIOTISE THE SETTING UP OF NEW MANUFACTURING INDUSTRIES IN EACH OF THE 10 PROVINCES FROM TEXTILES, FOOD PROCESSING, STRAW PROCESSING, TOY MANUFACTURING, MINERAL PROCESSING AND MANY OTHERS.
7. PRIVATE SECTOR- WE HAVE TO PROMOTE A THRIVING AND SUCCESFUL PRIVATE SECTOR. BUT MY CONCERNS REGARD OUR LOCAL CONTRACTORS AND SUPPLIERS. WE HAVE NOT EMPOWERED THEM ENOUGH. WE HAVE TO ENSURE THAT OUR LOCAL CONTRACTORS GROW SIGNIFICANTLY BY GIVING THEM BIG JOBS.
8. WE RECENTLY GAVE OVER 200 ZAMBIAN CONTRACTORS TO BUILD INFRASTRUCTURE IN THE NEW 30 DISTRICTS. THIS IS AS IT SHOULD BE.
9. THE MINES HERE, SHOULD BEGIN TO GIVE LOCAL CONTRACTORS AND SUPPLIERS BIGGER OPPORTUNITIES THAN RELY UPON FOREIGN SUPPLIERS. FOREIGN CONTRACTORS SHOULD BE MADE TO PARTNER WITH ZAMBIANS.
10. LOCAL ZAMBIAN COMPANIES AND INDIVIDUALS MUST GET INVOLVED IN THE OWNERSHIP OF MINES. WE SHOULD NOT BE WORKERS, BUT ALSO MINE OWNERS. WHERE ARE THE PATRICK MOTSEPES? THE CYRIL RAMAPHOSAS OF ZAMBIA? WE SHOULD HAVE OUR OWN MINING MAGNATES. THIS ONLY POSSIBLE IF GOVERNMENT SUPPORTS OUR SMALL SCALE MINERS.
11. WE MUST ENSURE THAT MINE HOUSES SHOULD NEGOTIATE WITH GOVERNMENT BEFORE ANY RETRENCHMENT OF WORKERS IS DONE. THIS TO FOSTER JOB SECURITY IN THE INDUSTRY
12. I AM AWARE THAT DESPITE THE PRESENCE OF LOCAL SKILLS, WE HAVE EXPATRIATE WORKERS. WE MUST GIVE PRIORITY TO OUR LOCAL PEOPLE WITH REQUISITE SKILLS.
13. BOTH OLD AND NEW MINES SHOULD PROVIDE QUALITY JOBS AND AVOID SHORT AND POOR CONTRACTUAL JOBS. THE MINES SHOULD RECOMMIT TO DEVELOPING REAL AND VISIBLE SOCIAL AND SPORTING FACILITIES. THEY SHOULD CONSIDER OTHER AREAS SUCH AS STREET LIGHTING AND LIGHT-ROAD MAINTAINANCE.
14. HOUSING: ZAMBIA HAS À HOUSING DEFICIT OF 3 MILLION HOUSES AND OUR TARGET OF 150,000 NEW HOMES PER YEAR IS NOT BEING MET. THE COST OF RENT IS OUT OF REACH FOR MILLIONS OF ZAMBIANS. WE SHALL EMBARK ON AN AMBITIOUS HOUSING PROJECT TO BRING AFFORDABLE HOUSING TO OUR PEOPLE AND CLOSE THIS GAP
15. EMPOWERMENT INITIATIVES- THIS ONE OF THE IMPORTANT MEANS TO REDUCE UNEMPLOYMENT. WE HAVE TO EMPOWER OUR YOUNG PEOPLE WITH SKILLS AND OPPORTUNITIES SO THAT THEY CAN HELP THEMSELVES AND ALSO EMPLOY OTHERS.
16. THE CONSTITUTION- WHEN I WAS ACTING PRESIDENT I CAUSED THE RELEASE OF THE DRAFT CONSTITUTION TO PARLIAMENT. WE NOW HAVE A DUTY DRAW UP LEGAL FRAMWORK THAT SHOULD ENABLE US ACHIEVE A CREDIBLE, AND DURABLE CONSTITUTION THAT WILL STAND THE TEST OF TIME
17. POVERTY – WE WILL EMBARK ON AGGRESSIVE POVERTY ALLEVIATION PROGRAMS INCLUDING EXPANDING INITITAIVES LIKE THE CASH TRANSFER PROGRAMS TO COVER ALL RURAL DISTRICTS
18. MY ADMINISTRATION WILL WORK TO ENGAGE THE CHURCH, CIVIL SOCIETY, THE LABOUR MOVEMENT AND OTHER VOLUNTARY ORGANIZATIONS BECAUSE I AM FULLY AWARE THAT THESE PLAY AN IMPORTANT ROLE IN NATIONAL DEVELOPMENT IN VARIOUS WAYS.
I WISH TO URGE ALL OUR MEMBERS TO ACT WITH RESTRAINT EVEN IN MOMENTS OF PROVOCATION. OUR PARTY IS A PEACEFUL PARTY.
VIOLENCE AND INTIMIDATION IS NOT PART OF OUR CULTURE AS THE PF AND SHOULD NOT BE TOLERATED.
LET US CONDUCT OUR OF CAMPAIGNS IN A PEACEFUL MANNER
VICTORY IS OURS!
VICTORY IS CERTAIN!
GOD BLESS YOU
GOD BLESS ZAMBIA
THANK YOU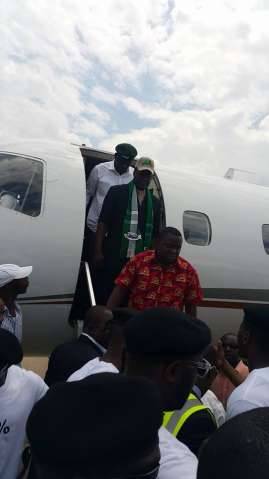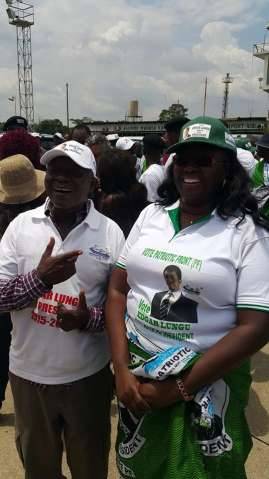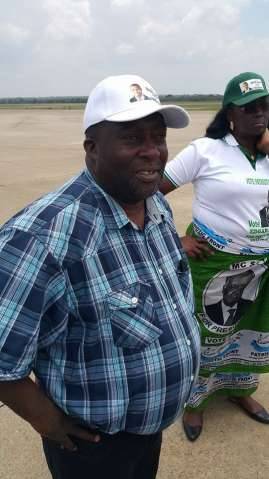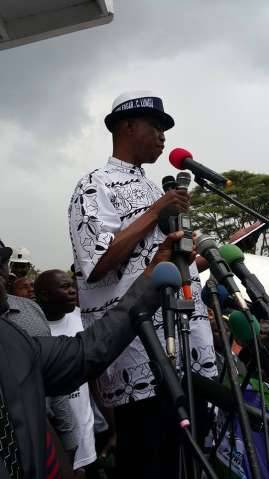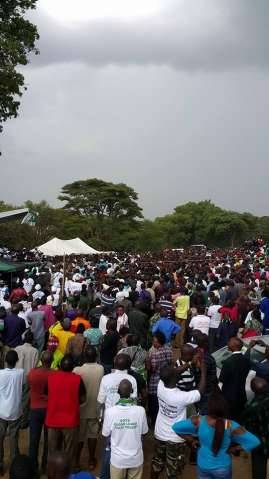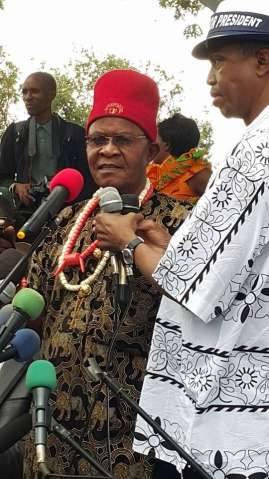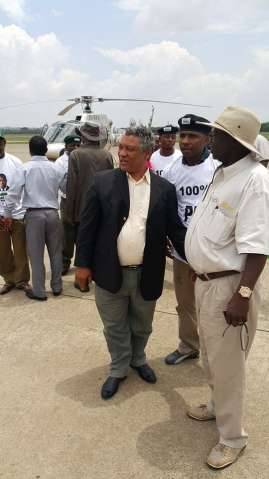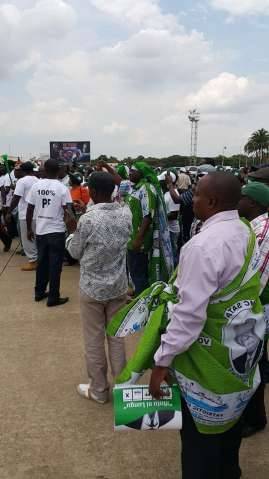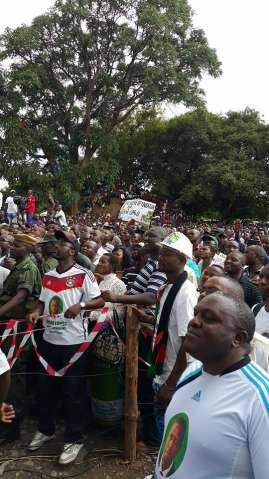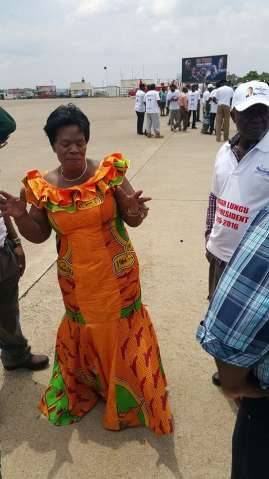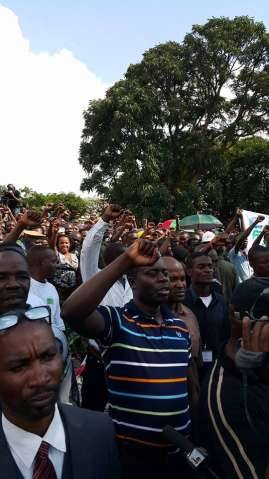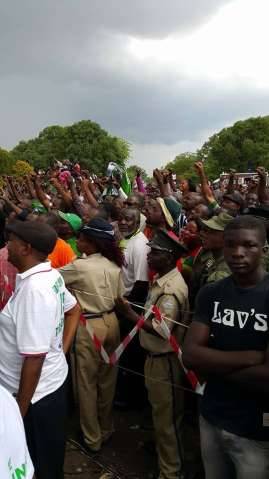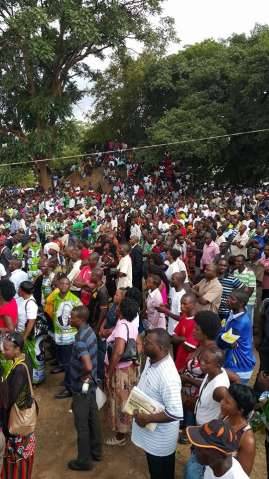 Emmanuel Mwamba