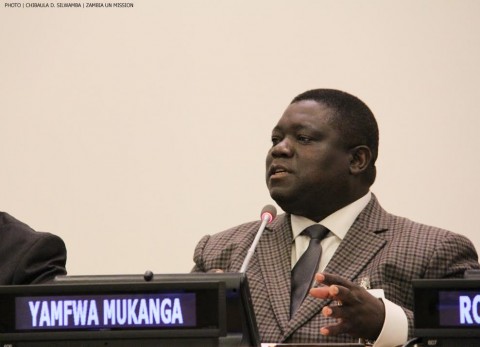 By JAMES KUNDA –
GOVERNMENT says it has prioritised infrastructure development because of its ability to contribute meaningfully to the economic growth of Zambia.
Meanwhile, Government says it has embarked on a systematic revitalisation of military healthcare facilities in order for the defence forces to keep pace with the increasing demand for health services.
Transport, Works, Supply and Communication Minister Yamfwa Mukanga said the Government would not relent in infrastructure development because it equally contributed to the improvement of technical skills.
Mr Mukanga was speaking yesterday when he officially handed over phase one of the rehabilitated Northern command military hospital in Ndola to the Ministry of Defence.
Phase one of the rehabilitation works on the hospital was completed at a cost of K7.7 million by Golden Horse Limited of China, while phase two is expected to commence soon.
"The Government is determined to implement infrastructure development programmes successfully and what we are witnessing here today is testimony of Government's commitment to developing the country," he said.
Mr Mukanga, who expressed happiness with the rehabilitation works, warned that the Government would not tolerate shoddy work in the construction sector because it was in a hurry to rollout infrastructure development countrywide.
At the same occasion, Defence Minister Edgar Lungu, who received the refurbished facility on behalf of the military, said it was important for the defence force to keep pace with the increasing demand for health services.
"It is worthwhile to mention that the high disease burden is placing an enormous strain on the provision of health services. It is therefore, important for the defence force to keep pace with the increasing demand for health services," Mr Lungu said.
He said the ministry had mobilised an assortment of specialised medical equipment from China targeted at equipping the hospital that will carter for military personnel on the Copperbelt and North-Western, Luapula and Northern provinces.
"It is also important to emphasize that the health care services will not be confined to military personnel, but will be extended to people in the catchment area in line with the Government policy on health," Mr Lungu said.
In phase one of the rehabilitation project the hospital was equipped with an outpatient department and utility services such as water, electricity and sewer facilities.
Phase two of the rehabilitation programmes will include rehabilitation of admission wards, construction of a mortuary, laundry, kitchen, office block and hostels.
Among those who witnessed the handover ceremony for the hospital were Home Affairs deputy minister Stephen Kampyongo, Copperbelt minister Mwenya Musenge, Ndola district commissioner Rebby Chanda, his Mufulira counterpart Chanda Kabwe and Ndola Mayor Samuel Munthali.
Times of Zambia