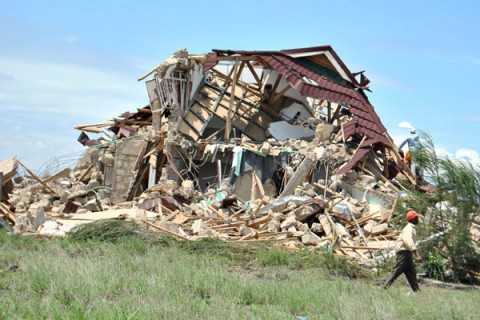 By CHATULA KAMPO –
THE demolishing of eight high cost houses on an illegal land in Ndola's Chifubu Township by bailiffs has been put on hold.
Bailiffs were last month engaged to demolish eight houses allegedly built illegally on a land belonging to local business man Abraham Phiri.
The structures have been at the centre of controversy since 2010 despite the owner of the land being issued with title deeds to the property in the same year.
Mr Phiri said the Ndola City Council pleaded with him not to go ahead with demolishing  exercise and promised to compensate  him with alternative plots.
"We have been having meetings with council officials, my lawyer and the tenants concerning this issue.
It was resolved in the last meeting we had this week that the council would provide an alternative land for me than destroying property which was already in place," he said.
The local authority has assured him that he would be compensated with an alternative land within one week.
Last month, the affected people were advised to vacate the Mr Phiri's property within 30 days after being issued with the letters on October 29, 2014 although some of them refused to receive the letters.
Mr Phiri opted to engage the court on the matter relating to the land which has been encroached by following resistance by the developers to move away.
He said he had been paying land rate on the piece of land which has been under dispute for the past four years.
times of Zambia