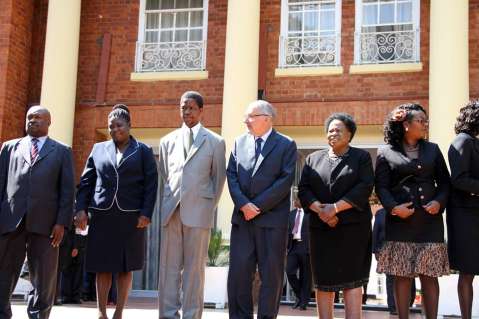 Acting President Guy Scott has temporarily suspended the accreditation process for the PF General Conference to be held in Kabwe tomorrow.
Dr Scott in a statement issued this afternoon says all credentials that have been already issued from any of the registration centres have been declared null and void,and will not be used for entrance into Mulungushi Rock of Authority area in Kabwe.
Dr Scott says the measure has been necessitated following the illegal takeover of the registration centre at Mulungushi International Conference Centre by unknown persons, and the destruction of the official registers validated and issued by the PF Secretariate at registration centres in Lusaka,Kabwe and Kapiri Mposhi.
He states that the registration process will resume at 08:00 hours at Mulungushi Rock of Authority tomorrow, 29th November 2014.
The acting President says legitimate delegates should proceed to Kabwe.
Dr Scott adds that the general conference will be opened only after a legitimate and proper registration process has been completed, stating that there will be no shortcuts.
QFM NEWS