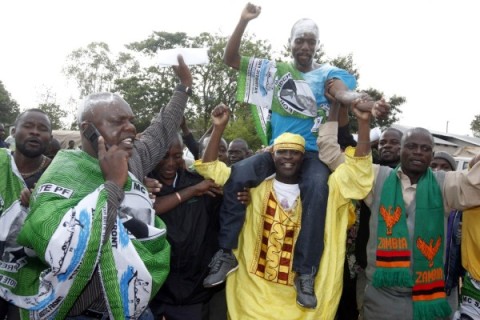 INCARCERATED Mufumbwe Member of Parliament (MP) Steven Masumba has sworn an affidavit in the Supreme Court denying authoring a complaint attacking the integrity of the Judiciary.
Masumba who is former Deputy Sports minister is alleged to have on October 4, 2014 authored a story in a daily tabloid where he questioned High Court Judge Chalwe Mchenga's decision to deny him bail twice.
Mr Justice Mchenga also upheld the Lusaka magistrate's court's 12 months jail sentence that was slapped on Masumba for obtaining an accounting technician certificate from the National Institute of Public Administration (NIPA) which he used to gain employment.
Masumba who appealed to the Supreme Court against Mr Justice Mchenga's decision to uphold the sentence later asked the judge to release him on bail, pending the hearing of his appeal but Mr Justice Mchenga declined.
He is alleged to have issued a handwritten note which the newspaper quoted him, saying Mr Justice Mchenga's refusal to grant him bail left much to be desired and accused the judge of taking up the role of adjudicating the matter on behalf of the Supreme Court.
When Masumba's bail hearing case came up last month, acting Deputy Chief Justice Mervin Mwanamwambwa raised concerns about the article but Masumba through his lawyer Mutakela Lisimba denied authoring the note.
Mr Justice Mwanamwambwa ordered Masumba to swear in an affidavit if he never authored the complaint.
In his affidavit in rebuttal filed on November 13, 2014, Masumba categorically denied any part in the story and refused that he had written a complaint about Mr Justice Mchenga.
Masumba refused meeting the two reporters from the newspaper to give the written complaint.
To the best of his knowledge, the alleged complaint was a fabrication and an attempt at putting him in a bad state with the court.
Mr Justice Mwanamwambwa adjourned the matter to today to enable the newspaper respond to Masumba's affidavit of rebuttal.
Times of Zambia