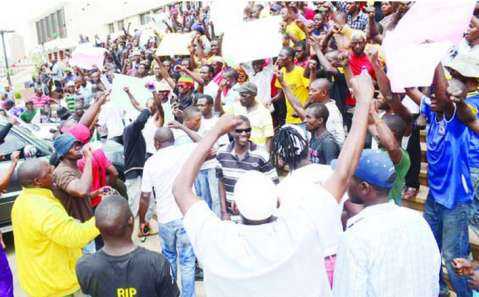 Police in full riot gear have been deployed around State House where a crucial Patriotic Front (PF) Central Committee meeting is being held to try and resolve the succession wrangles that have rocked the ruling party ahead of the presidential by-election.
A Check by a QFM News Crew found Police officers deployed on both Independence Avenue and Los Angeles Boulevard screening every car entering State House to ensure no cadres enter the premises.
A few buses loaded with cadres were however spotted at Longacres but could not proceed to State House upon being informed of the Police presence.
PF Secretary General Edgar Lungu on Friday last week warned cadres not to go to State House to but rather wait for official communication after the Central Committee meeting.
Some of the notable figures spotted entering State House include PF Central Committee Member Willy Nsanda, former Home Affairs Deputy Minister Alfredah Kansembe, Davies Mwila, Education Minister John Phiri, Muchinga Province Minister Gerry Chanda and Mwenya Musenge among others.
The ruling party is embroiled in wrangles over the mode of selecting a presidential candidate ahead of the January 2015 presidential election.