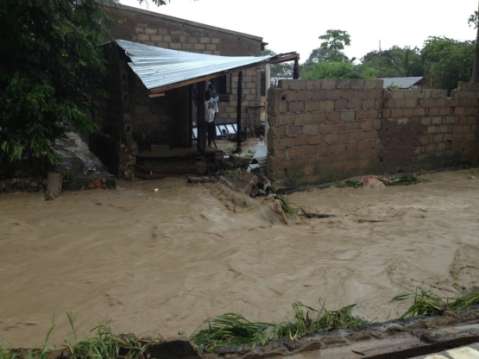 A HEAVY downpour that lasted for about two hours on Wednesday left a trail of destruction to several buildings and vehicles in Choma district.
An on-the-spot check by a Daily Mail crew  in the central business district and some townships found residents fixing  roofs which were blown off by the stormy rains.
At the Zambia Police compound, some police officers were found securing tents on one of the several houses whose roof was completely ripped off by the downpour which was characterised by lightning and thunder.
And a check at Adastra Basic School found the entire roof for the recently constructed early childhood classroom ripped off while another classroom had its walls and roofs cracked.
School head teacher Bornwell Siagwelele who was found at the scene said "this is a terrible drawback to our quest to expand the school infrastructure".
"I'm very sad, I don't know where my children, the six-year-old early graders will be learning. This project cost us K20,000. I'm, however, happy these roofs which flew 500 metres over the electricity cables didn't injure anyone," he said.
And at Choma Bookshop, the entire roof of the stationery shop was ripped off while some vehicles parked around the premises had screens smashed by trees which fell off after being struck by lightning.
A check in Mwapona and Macha townships revealed a similar predicament.
Some residents spoken to expressed shock that rains which only lasted for a few hours caused serious damage, raising fears of the impact of impending rains.
Zambia Daily Mail