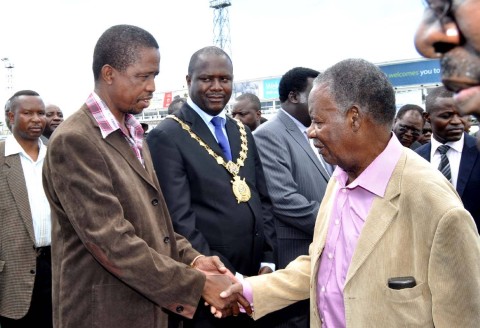 Patriotic Front Director Media and Publicity Brian Hapunda says the PF Central Committee which sat today at Government Complex, has adopted PF Secretary General, Edgar Lungu as Party President and Presidential Candidate.
Mr Hapunda in a statement issued to QFM News says the meeting also received a petition of support from 63 PF Members of Parliament that demanded that the Central Committee adopts Mr. Lungu as Presidential Candidate.
He says Kafue Member of Parliament, Obvious Mwaliteta who was accompanied by other Members of Parliament, presented the petition.
Mr Hapunda the Central Committee formed a quorum as provided for Article 51 (2), which states that the quorum is constituted by half of its membership.
He states that the Central Committee considered the petition of support from the 63 Members of Parliament and resolved that it was in the best interest that both the position of President of the Party and Presidential Candidate were harmonized.
Mr Hapunda says the Central Committee was chaired by PF National Chairperson Inonge Wina and was attended by members of the central committee who included Dorothy Kazunga, Esther Banda, Alfredah Kansembe, Garry Chanda, Yamfwa Mukanga, Dr. John Phiri, Dr. Joseph Katema, Given Lubinda, Willie Nsanda, Hon Jean Kapata, and Mr. Samuel Mukupa.
Others are Emmanuel Mpakanta, Sylvester Mtonga, John Chisanga, Peter Kajimanga, Robert Mwale, Mwenye Musenge, Freedom Sikazwe and Elizabeth Phiri.
Others are Benson Chali,Steady Mwale, Susan Kawandami, Attan Mwamba, Mwanasa Kapeya and Fabian Chiposo.
Mr Hapunda says the meeting also resolved that a committee amongst themselves should approach Acting President, Dr. Guy Scott to inform him of the decisions and resolutions of Central Committee and the decision of the Members of the Parliament.
He adds that the motion to adopt Mr Lungu as Presidential candidate and Party President was raised by Ms Banda and seconded by Ms Kapata and Davis Chama.
In a vote of thanks PF Southern province Chairman Daniel Munkombwe urged the members to unite around the party candidate.
Mr Hapunda states that an earlier request that a meeting be a consultative was rejected and the meeting resolved and voted that it be a convened as a Central Committee Meeting as formal Notices were properly issued.
Mr Hapunda adds that the Central Committee also resolved that Dr. Scott should revert and remain in his substantive position as Vice President of the Party.
QFM NEWS