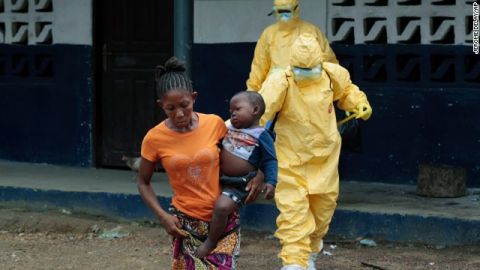 BBC — Dozens of people are being monitored in Mali after the country confirmed its first case of Ebola.
The patient is a two-year-old girl who recently arrived from Guinea, which along with Liberia and Sierra Leone has seen most of the 4,800 deaths.
The World Health Organization (WHO) said it was sending more experts to Mali to help contain the outbreak.
Separately, a New York doctor who recently returned from Guinea has tested positive for the disease.
In other developments:
An international team of scientists has been set up to determine the effectiveness of using the blood of Ebola survivors as a treatment. It is hoped the antibodies used by the immune system to fight Ebola can be transferred from a survivor to a patient
European Union leaders agreed to increase their financial help on fighting Ebola in West Africa from some 600 million euros ($758m; £743m) to one billion
WHO reinforcements
With the latest case, Mali becomes the sixth West African country to be affected by the outbreak, although Senegal and Nigeria have since been declared virus-free by the WHO.
Malian authorities have now quarantined and are monitoring 43 people who have been in contact with the infected girl. They include 10 health workers.
The girl is being treated in the western town of Kayes.
She was brought to a local hospital on Wednesday and her blood sample was Ebola-positive, Malian Health Minister Ousmane Kone said.