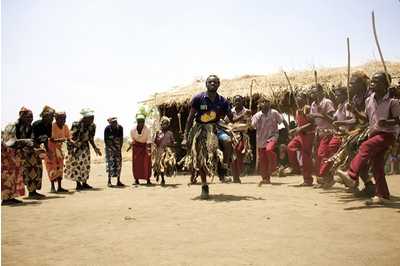 Just over 20,000 children from 25 schools across Chipata District in eastern Zambia will now be receiving Mary's Meals. It's my first time in the country and the first time these children will receive Mary's Meals, so I'm keen to see the difference that a nutritious daily meal will make.
Tourists are drawn to Zambia, in South-Central Africa, to visit its large game parks and the magnificent Victoria Falls-one of the Seven Wonders of the World. Unlike most of its neighbours, Zambia has been peaceful and relatively trouble-free for several decades. But social conditions remain very tough. More than 60 per cent of its 14.5 population live below the poverty line and hunger prevents many children from receiving an education.
After driving through the busy town of Chipata, we finally arrive at our house. I'm looking forward to having a shower after the long drive, but I'm not off to a good start. As I start unpacking my suitcase I find a frog sleeping amongst my clothes (quite how he got in there I'm not sure). Next, the power goes off, a common problem in Malawi and also Zambia, it seems. I scramble for my head-torch and head to the shower, to find there is no running water. But, thankfully there is a bowl of water in the corner and I'm pretty experienced at 'bucket baths' by now.
Feeling slightly more refreshed I sit down for dinner, which consists of Nsima (a local staple food made from maize flour). Nsima is quite a stodgy dish and not something I'd normally choose to eat, but hunger makes me tuck in eagerly. After dinner I head to bed as I have an early start in the morning.
Launch day
I awake the next morning at 6am, and already the temperature is in the 30s.
It's a big day for the Mary's Meals team here because it's the start of the school feeding programme. We all jump in the car and set off to the school where the launch party will be held. It's miles from the main road, and there are no facilities around, just some houses dotted nearby-it is quite literally in the middle of nowhere. This is one of the most deprived areas of Chipata and many of the children here experience chronic hunger, often missing school to work or search for food.
The teachers are busy preparing for the launch, decorating the school with flowers and signs, and the volunteers have begun preparing the porridge.
I'm greeted by one of the teachers at the school, Mrs. Lungu.
"We're so excited by the start of this programme. So many children come to school hungry, so Mary's Meals will make such a difference to them and their families," she proclaims.
She leads me into one of the classrooms, which is a straw hut. About 80 children are sat on the mud floor learning maths. I'm introduced to a little girl called Anna. She is 11-years-old, her face is frail and she looks very thin.
"Anna is very malnourished," explains her teacher. "She always comes to school hungry because there is no food at home. She'll often miss school because she falls sick, so this programme will make a big difference to her," she says.
I ask her about he feels about Mary's Meals and she simply replies:
"I'm really looking forward to the porridge, because I'm hungry."
Guests from across Chipata start to arrive for the ceremony; they include a group of majorettes from a nearby school that's also receiving Mary's Meals, the mayor of Chipata, and lots of local community leaders.
We all sit down to watch the ceremony. First the majorettes give an excellent rumba performance, which is followed by some poems the children have written to raise awareness about HIV/AIDS. Then, there is a tribal warrior dance, from the Ngoni tribe-and ancient tradition involving clubs and animal skins, not like anything I'd ever seen before!
Finally, the mayor officially marks the launch of our programme by cutting the ribbon to the kitchen. The children line up to receive their first mug of porridge, which is enriched with vital vitamins and nutrients.
I notice Anna sitting in the shade rapidly tucking in to the food. A few minutes after she finishes, I see her laughing and playing with her friends. Already her spirits seem lifted.
I know it's only day one of the programme, but I leave hopeful that children like Anna will benefit greatly from Mary's Meals.