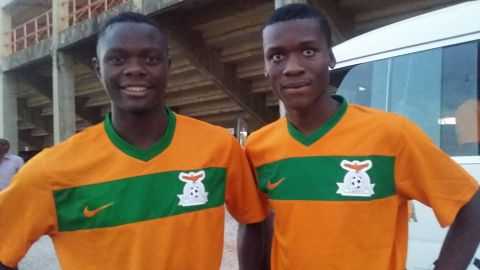 Two Under Seventeen National team players have been called to the Chipolopolo camp that is preparing for Saturday's encounter against Ivory Coast in Lusaka. 

Patson Daka (L) and Changwe Kalale have been instrumental in the Zambia Under Seventeen's qualification to the Africa cup finals in Niger next year.
Patson is a striker from Nchanga Rangers while Changwe Kalale is a midfielder from Chambeshi Football Club on the Copperbelt.
Janza has also summoned Zimbabwean based defender Aaron Katebe.
Chipolopolo will this Saturday meet Ivory Coast in an international friendly match at National Heroes Stadium in Lusaka starting at 15:00 hours.
Charges for this match have been pegged at K 300 for VIP and K 50 all round.
And the Ivory Coast national soccer team has arrived in the country. The Elephants touched down at Kenneth Kaunda International Airport at 15:15 hours. Their Coach Herve Renard said on arrival that he was pleased to be back in Zambia saying "Zambia is Zambia, being here always brings back the memories of what we did in 2012":
In 2012 Renard was Zambia's coach when Chipolopolo lifted the Africa cup.
FAZ