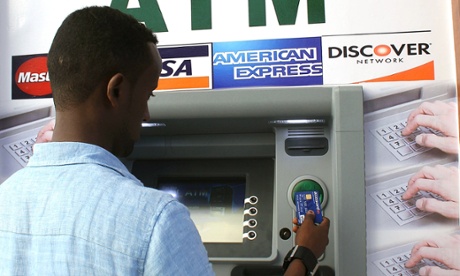 When 21-year-old student Salma Abdi ran out of cash on a Friday in Mogadishu she used to be without money all day as banks are closed in Somalia. But now Abdi does not need to be bound by bank opening hours as the city has gained its first cash machine.
"There are out-of-hours and weekend days where you cannot find any bank services at all, so the ATM is the one which helps me. Now I need not be trapped," she says.
Safety remains a concern
The novel machine is being run by the Salam Somali Bank, a privately-owned financial institution, from the premises of a luxury hotel. Said Mo'alim, the bank's marketing manager, says they are starting with just one ATM as a pilot project to test the security situation in Mogadishu.
"We have set up the first machine here in Hotel Jazeera because it is a more secure place, but in the future we anticipate extending the machines to other places downtown," Mo'alim told the Guardian.
Mo'alim knows that launching the ATM is not without risk. Armed gangs remain a threat. The installation of the cash machine, however, is the latest indication that Somalia is slowly rebuilding its fractured society after almost two decades of conflict. The ATM's arrival came as Somalia's first postal service since 1991 was launched, complete with national postcodes.
The Salam Somali Bank is one of around a dozen private banks and investment firms which have opened in Mogadishu after 2011's ousting of al-Shabaab militants from the capital. Despite these new shoots of activity in the financial sector, many Somalians remain dependent on remittances. A hefty portion of the country's national income is derived from diasporic Somalians sending money home from countries like the UK.