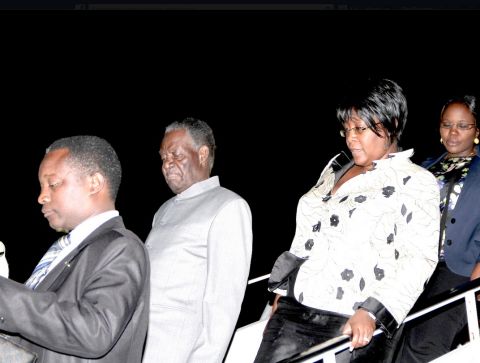 LUSAKA, Monday, October 20, 2014 – STATE HOUSE- His Excellency, Mr. Michael Chilufya Sata, President of the Republic of Zambia, last night left for a medical check- up abroad.

First Lady Dr Christine Kaseba, some family members and his press aide have accompanied the Head of State.

Issued by:

GEORGE CHELLAH
SPECIAL ASSISTANT TO THE PRESIDENT
PRESS AND PUBLIC RELATIONS
Sata leaves for medical check up  ( QFM NEWS)
President Michael Sata last night left for a medical check- up abroad.
Special Assistant for Press and Public Relations George Chellah has confirmed in a brief statement made available to QFM News without giving further details.
Mr Chellah says President Sata is accompanied by First Lady Dr Christine Kaseba and some family.
Mr Chellah is also part of the President's entourage.
President Michael Sata's health has been subject to public speculation from the time he left for Israel in June on a private working visit.
Meanwhile the Foundation for Democratic Process (FODEP) says the absence and deafening silence by Republican President Michael Chilufya Sata since coming from the UN meeting in New York is creating a lot of anxieties among electorate and the citizens in general ahead of the Jubilee Day Commemorations.
FODEP Executive Director MacDonald Chipenzi the Republican President who is also PF party leader has remained conspicuously absent from public eye despite the many challenges facing Zambians which include high mealie-meal prices, PF intra-violence and impending labour unrest due to imposed wage and employment freeze.
Mr Chipenzi says this is a clear demonstration of lack of electoral and democratic accountability on the party of the President in particular and government in general.
He says it will be good that the President becomes more visible to the electorate to avert future negative perceptions about politicians' behavior once elected.
Mr Chipenzi states that the President's absence from public eye is also raising questions on whether he will be able to actively participate in the Jubilee Celebrations since he has been visibly invisible and unheard for weeks now.