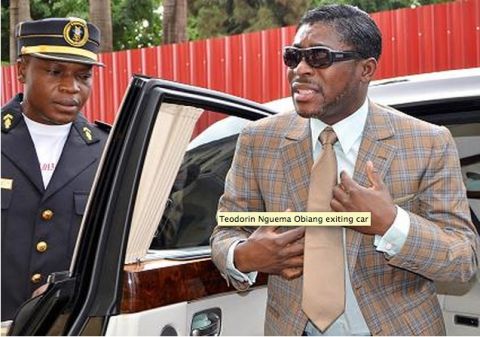 The vice president of the tiny but oil-rich African nation of Equatorial Guinea—who was facing accusations of using the U.S. financial system to launder millions—has agreed to sell his massive mansion in Malibu, California, as well as a 2011 Ferrari, in a settlement with U.S. authorities.
But the leader gets to keep his Gulfstream jet, most of his $2 million worth of Michael Jackson memorabilia, and perhaps most important, Teodoro Nguema Obiang Mangue—known in Equatorial Guinea as "Teodorin"—will likely avoid criminal prosecution in the U.S.
Under a settlement agreement made public Friday, the Justice Department will accept about $34 million from Teodorin, who is the son of Equatorial Guinea's long-serving president, Teodoro Obiang Nguema Mbasogo.
The settlement is about half what the U.S. originally sought in a case that was originally billed as a centerpiece of the Obama administration's Kleptocracy Asset Recovery Initiative. The U.S. promises under the agreement, which includes no admission of wrongdoing, to use the proceeds to benefit the people of Equatorial Guinea. The settlement was revealed in filings with a U.S. District Court in Los Angeles.
Equatorial Guinea is rich in oil reserves, but most of its population lives in severe poverty. CNBC profiled the Obiang family in the 2012 Investigations Inc. documentary, "Filthy Rich."
"This settlement forces Nguema Obiang to relinquish assets worth an estimated $30 million, and prevents Nguema Obiang from hiding other stolen money in the United States, fulfilling the goals of our Kleptocracy Asset Recovery Initiative: to deny safe haven to the proceeds of large-scale foreign official corruption and recover those funds for the people harmed by the abuse of office," said Assistant Attorney General Leslie Caldwell in a statement.
Attorneys for Teodorin couldn't not be immediately reached for comment.
The Justice Department went to court in 2011 to seize more than $70 million in property from Teodorin, whose government salary was less than $100,000 a year. At the time, officials called the case a "loud and clear" message that international corruption—with the proceeds laundered through the U.S. financial system—would no longer be tolerated.
"The United States will not be a hiding place for the ill-gotten riches of the world's corrupt leaders," then-Assistant Attorney General Lanny Breuer said in a statement, when the lawsuit was filed.
Teodorin, now 45, seemed like a poster boy for the initiative. An international playboy—he used to date the rapper Eve, among many others—Teodorin lived at the luxurious Beverly Wilshire Hotel while a student at Pepperdine University in Malibu in the 1990s. A U.S. oil company that did business in Equatorial Guinea, Walter Oil & Gas, allegedly picked up his living expenses.
At his mansion high atop the Malibu cliffs on Sweetwater Mesa Road, staff members said they were required to be at Teodorin's beck and call 24 hours a day, even though most days he did not wake up until late afternoon. Several filed complaints about labor law violations, which he invariably contested.
In addition to the Malibu mansion, which he purchased in 2006, and the Michael Jackson memorabilia bought four years later, Teodorin's prized possessions included a Gulfstream G-V jet and a fleet of luxury automobiles. He also had homes in Paris, and Cape Town, South Africa. U.S. officials estimated his fortune to be worth around $300 million.
"We allege that he got that through bribes, through corruption, through criminality," Breuer told CNBC in 2012.
Teodorin's father, President Obiang, had not only installed his eldest son as minister of forestry; he also granted him a massive timber concession, giving Teodorin control over Equatorial Guinea's second most important resource, after oil. The position also gave Teodorin control over the nation's infrastructure—convenient, since he also owned the nation's largest construction businesses.
The Justice Department alleged Teodorin demanded "taxes" or "fees"—which the U.S. claimed were nothing more than bribes—from other companies seeking to harvest timber in Equatorial Guinea.
The lawsuit says a pair of California attorneys, Michael Berger and George Nagler, helped Teodorin launder the funds through a web of shell companies to purchase the U.S. property. Berger and Nagler, whose activities were described at length in the Justice Department complaint, have not been personally accused of wrongdoing.
Teodorin fought hard to hang on to his riches.
In court filings, his attorneys denied the allegations of corruption, insisting Teodorin's activities were legal under Equatorial Guinean law, and that he had obtained his U.S. fortune legally.
And in a 2012 interview with CNBC, the country's ambassador to the United Nations at the time, Anatolio Ndong Mba, suggested U.S. authorities were engaged in a not-so-subtle form of racism, targeting Equatorial Guinea's petroleum reserves.
"You have a very small country having a lot of oil. Those monkeys there, they don't have the right to have this oil. Let's go and take it from them so that we can enjoy it ourselves," he said.
The settlement of the U.S. case does not end the international scrutiny of Teodorin.
He is a central figure in a landmark criminal investigation in Paris known as the Bien Mal Acquis—or ill-gotten gains—case. In 2012, French authorities seized his mansion on the exclusive Avenue Foch, along with millions of dollars worth of luxury goods and automobiles. Equatorial Guinea, in turn, accused France of violating its diplomatic immunity. The case is still pending.