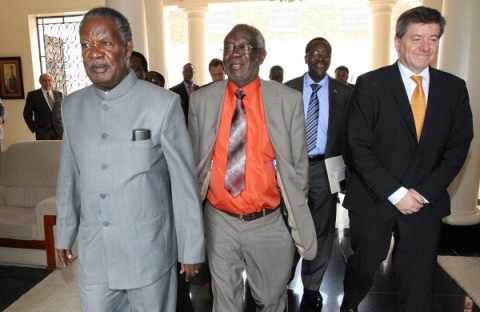 Prominent Lawyer Sakwiba Sikota has challenged the Anti-Corruption Commission (ACC) to prosecute Labour Minister Fackson Shamenda for failing to report an alleged bribe offer within 24 hours in line with section 39 Sub-section 1 of the Anti Corruption Act No.3 of 2012.
Mr. Shamenda has been recently quoted in the some sections of the media as saying that he is ready to go to prison if refusing a bribe is a crime following the indication by the ACC that it had not instituted investigations on the allegations he made against Dangote official, Bala Zango.
Mr. Sikota who is also United Liberal Party President says in view of the clear provisions of section 39 Sub-section 1 of the Anti Corruption Act, Mr. Shamenda did commit an offence and should be prosecuted.
Mr. Sikota has told Qfm News in an interview that if the ACC does not take up the matter, people will lose confidence in the institution.
He adds that based on the statement by Mr. Shamenda himself, it is also open for any member of the public to make a complaint to the Acting Chief Justice for a tribunal to be set up to probe the Labour and Social Security Minister.
Mr. Sikota says this is because Mr. Shamenda's conducts amounts to breach of the Ministerial Code of Conduct.
He explains that Mr. Shamenda has admitted to having breached the law when failed to report the alleged bribe offer within lawful time of 24 hours.
( Tuesday 30th September 2014 )
QFM NEWS