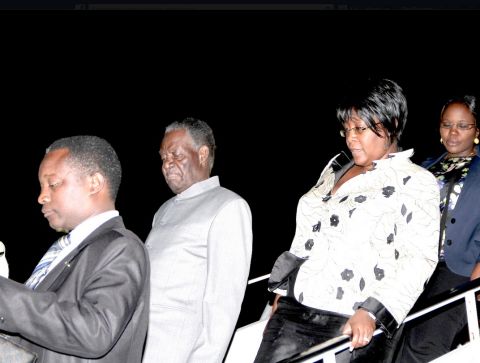 NEW YORK (USA), September 26, 2014, ZANIS- FOREIGN Affairs Minister Harry Kalaba has joined in refuting media reports here that President Michael Sata has fallen sick in New York, United States of America (USA) and is being attended to by American doctors.
The Foreign Affairs minister joins Vice President Guy Scott and Lusaka City Mayor Mulenga Sata in denying media reports that President Sata had fallen ill in New York.
Mr Kalaba told Zambian journalists in New York, Friday, that President Sata is however well and working.
He said Zambia has ably participated in all sessions of the ongoing 69th United Nations annual general meeting under the guidance of President Sata.
"I wish to state that I confer with the President every morning and I attend meetings of the UN under his direction. It is untrue that the president is incapacitated," he said.
Mr Kalaba has assured Zambians and the international community that all is well with the republican president who is discharging his duties normally.
The Associated Press, an American international new agency, had reported that Police in New York had said that President Sata had been treated in his New York hotel room by American doctors.
Republican Vice President Dr. Guy Scott yesterday dismissed in Parliament reports that President Michael Sata is dead.
Dr Scott told the House in response to a question by Monze central Member of Parliament Jack Mwiimbu who wanted to know the President's health status following US media reports that he was attended to by Doctors in his hotel room.
He said the health of President Sata has been entirely normal in New York.
He said following the media reports he was very quick to ascertain the actual situation which revealed that it was not true that the President had died.
"This morning I woke up I received a number of phone calls asking about the President's health, initially, the first call I receive must have been from the Guardian who probably told Newsweek who told Associated Press who probably picked it from the Zambia Watchdog that the President has passed on. This Mr Speaker is not true and the President is in perfect health," Dr Scott said.
President Michael Sata's eldest son Mulenga has assured that his father is well in New York contrary to online and international media reports insinuating that he is dead.
Mr Sata who is also Lusaka City Mayor told media briefing at his office today that he personally spoke to President Sata and First Lady Christine Kaseba on phone from New York this morning at 07:00 Hrs and they confirmed that the Head of State is well.
"I wish to inform the nation and the world at large that His Excellence the President Mr Michael Chilufya Sata is well in New York contrary to the online and international media reports insinuating that the President has been hospitalised," Mr Sata said.
He said the President expressed regret at the unfortunate reports being circulated concerning his health and he has since urged Zambians to remain calm and united.
"President Sata will issue a statement from New York in due course," Mr Sata said
President Sata is in New York for the annual gathering of world leaders at the United Nations General Assembly, where he was scheduled to speak on Wednesday.
The speculations started swirling Wednesday night, when President Sata failed to show up for his scheduled address at the General Assembly, which this week conducts its annual debate, an opportunity for the U.N.'s 193 members to showcase their policies to the world. President Sata was slated to follow Venezuela's president, Nicolas Maduro, Wednesday night.
The U.N. moderator then received a notice, and after a short hesitation announced, instead, that the next speaker, Britain's Prime Minister David Cameron, would address the council. No alternative time for President Sata's address was announced.
Earlier Chief Government Spokesperson Joseph Katema told the local media in an interview that Government has not received any information that President Michael Sata has been admitted to a New York hospital as has been reported by US media.
US media organizations that reported President Sata's hospitalization include VOA, New York Times, Newsweek and Associated Press.