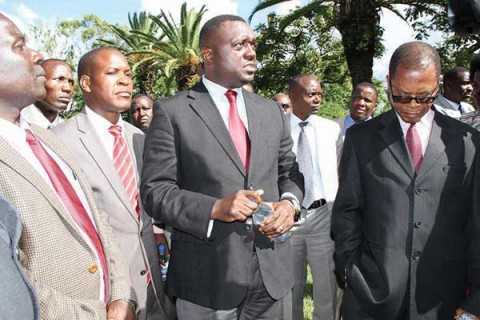 SPEAKER of the National Assembly is studying the case in which some private media organisations were barred from covering the official opening of Parliament  by President Michael Sata last week.
This follows a point of order raised by Mazabuka Central UPND MP Gary Nkombo in Parliament on Tuesday.
Mr Nkombo told the House that he was aware of correspondence from National Assembly to a private television station which was requesting to cover the live proceedings of the official opening of Parliament but were referred to Zambia News and Information Services (ZANIS).

He said the denial of the private media to cover live proceedings of the official opening of Parliament were contrary to Page 51 of the Standing Order 154 which addressed housekeeping.
The denial was also contrary to provisions of the Constitution under Part 5.
He said Information and Broadcasting Minister Joseph Katema said it was the duty of the National Assembly to either allow or not allow the private media coverage of the live proceedings.
Mr Nkombo said Vice-President Guy Scott, however, later took responsibility and apologised for what transpired.
He sought a ruling from the Speaker on whether Government was in order to carry on with the inconsistencies associated with the barring of some private media organisations from covering the official opening of Parliament.

In his response, Dr Matibini said he would need time to study the point of order raised by Mr Nkombo to ensure that he gives a good response.
Meanwhile, Parliament heard yesterday that a troop of 300 security officers from Kamfinsa were still deployed in Chibolya to continue ensuring law and order.
The House also heard that Government spend about K100,000 to carry out a security operation in Chibolya to retain peace and sanity to the area.
Home Affairs Deputy Minister Stephen Kampyongo said Police seized illegal firearms and guns from the operation carried out in Chibolya on May 29 and 30, this year.
He said the funds were used for fuel, allowances for officers and equipment.
Mr Kampyongo said Chibolya had become a den of criminal activities where guns were being hidden and some innocent citizens were being held captive for years by the criminals.
Katuba UPND MP Jonas Shakafuswa and his Namwala counterpart Moono Lubezhi called on the ministry to extend such operations to rural areas to curb cattle rustling which had become rampant.