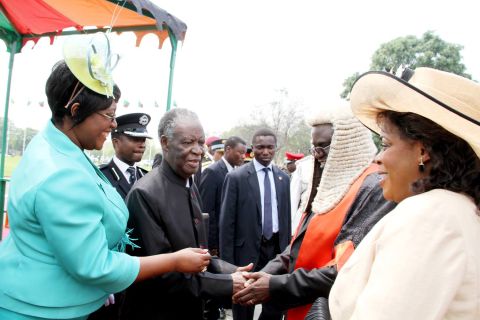 Opposition People's Democratic Party (PDP) President George Mpombo says President Michael Sata's cracking voice and inability to complete his last Friday's speech to Parliament does not justify calls that the President should take a rest from work.
Dr. Mpombo says he personally does not think the health of an individual should be judged on his voice as it is a fact that there could be so many issues that can cause the voice of a person to crack up.
He has told Qfm news in an interview that he also thinks that President Sata's inability to complete his speech when he officially opened the 4th meeting of the 11th secession of Parliament could have been that he was only tired.
Dr. Mpombo says this does not however mean that President is unable to execute his duties.
He says people in the country should realize that the health of a person is between God and the individual himself and that with God there is nothing impossible when it comes to healing people.
The PDP leader says it is also important to be mindful that it is not prompt for an individual is get back from what he has termed the vagaries of health as it takes time to fully get strong.
He says the fact that President Sata is on his fit he does believe that he is therefore able to perform his duties which is the more reason that the President has to this effect traveled to the US for the New York UN summit.
Dr. Mpombo has since maintained that President still appears to be fit as a fiddle and that what people ought to do in the country is to give him support and see how he progresses.
He says the signs that the Head of State is displaying are very bold and inspiring especially that he is able to appear in public for people to see him walk.
( Sunday 21st September 2014 )
QFM NEWS