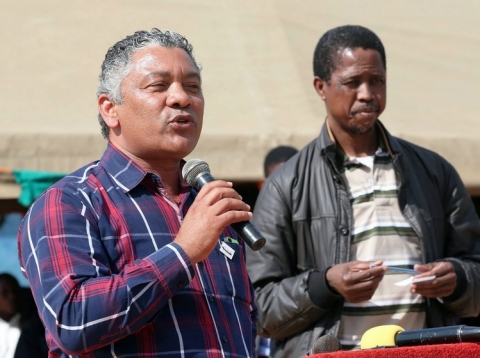 PATRIOTIC Front (PF) secretary-general Edgar Lungu says members allegedly vying for the presidency are wasting their time because the ruling party already has President Sata as its leader.
Mr Lungu said this at Kenneth Kaunda International Airport in Lusaka yesterday on return from Chad where he had gone to attend the Council of African Political Parties (CAPP) meeting.
Mr Lungu said it is wrong for leaders to discuss party secrets in public and described such acts as indiscipline.
"Such people must be flashed out once they are discovered because if you have trust of the party president and you are privy to information, you cannot go out and divulge it carelessly with impunity.  Then you are not worthy of leadership in the party," he said.
Mr Lungu, who is also Minister of Defence and Minister Justice, said although members do not take oath of office or allegiance, it is important for them to uphold respect for leaders.
"I do not know what information leaked because I was not in the country, but whatever it is, if it was shared between party leadership and was in the confines of the party, people need to respect that," he said.
Mr Lungu warned that if people cannot keep secret information within the party, they are not worthy to be members and will be flashed out.
"Even in the house, what is discussed between a couple remains between them and is not brought in public domain. I will investigate the matter and action will be taken appropriately," Mr Lungu said.
He also said the issue of fighting for presidency is over because the party is intact with a proper hierarchy.
Mr Lungu wondered why some people are still busy vying for the position.
He also warned members to be wary of individuals with intentions to divide the party.
"I would like to believe that we are one and will remain one, if there are allegations that border on division, I will follow them up and make sure that I get to the bottom of the matter.
"I can assure you that we are one political party, one top leadership and one command. there could be people who would like to divide us and probably are speculating the issue of presidency, be careful with such people," he said.
Mr Lungu said he knows that some people are not happy that the PF is now united and working as one and would do everything possible to divide the party.
On the CAPP meeting, Mr Lungu said the meeting was very productive and Zambia, apart from being president of the council, was given the position of deputy president to preside over five countries in the region.
Mr Lungu attended the meeting at the invitation of CAPP.
Zambia Daily Mail