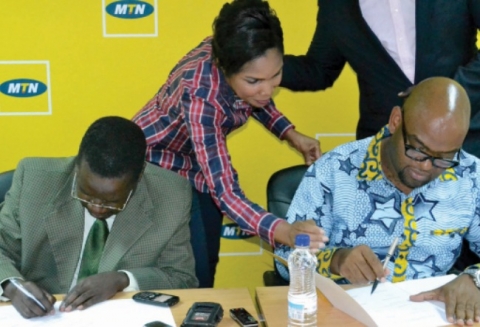 MTN Zambia and Times Printpak Zambia Limited have signed an agreement to enable customers buy the electronic version of the Times of Zambia and Sunday Times of Zambia and place advertisements through the Mobile Money promotion.
MTN Zambia chief sales and distribution officer, Amon Jere said the partnership would allow customers to pay for the Times e-paper and advertisements in a convenient manner as they would not be required to physically pay for the service.
Mr Jere was speaking during a signing ceremony between MTN Mobile Money and Times Printpak aimed at enhancing e-services of the two companies.

The Times e-paper is an electronic version of the whole Times of Zambia and Sunday Times of Zamia newspapers presented in Portable Document Format (PDF), complete with articles and adverts.
Readers that have a preference for the electronic version of the newspaper or have no immediate access to the hard copy, currently purchase the Times e-paper via a user-friendly system after registering on the Times website.
The system has provisions for readers to make payment for the e-paper at any of the Times offices across the country and now will be able to buy it through MTN Mobile money.
Mr Jere said the economy was becoming digital, which was a challenge for various organisations with regard to the collection of revenue, having provided e-service as the country lacked a robust credit system.
He said through the system, transactions would be faster and assured that the MTN Mobile Money revenue collection was fast and reliable.

"Great strides have been made in technological development resulting in increased e-commerce and requirement for faster, secure ways of carrying out business transactions," he said.
Times Printpak acting deputy managing director, Venarcious Mwansa said the agreement would ease access of electronic services of the paper anywhere, especially in the remote areas of the country.
Mr Mwansa said clients could pay for advertisements, newspaper subscription and the e-paper at either MTN booths or they could use their mobile phones.
"The partnership will improve and enhance service delivery. Our clients can easily send a classified advertisement and pay through the MTN Mobile Money," he said.

Mr Mwansa said that Times Printpak was ready to partner with other organisations that offered services in line with the provision of education and financial services.
Mr Mwansa urged both MTN and Times Printpak teams to ensure that the partnership was a success.
Times of Zambia