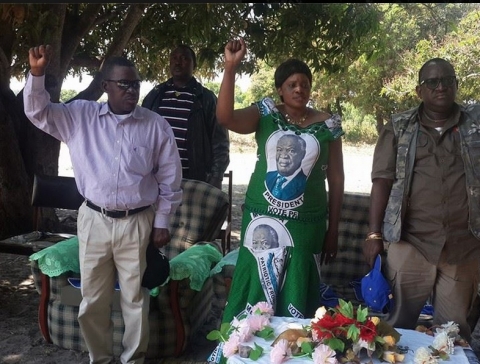 PRESIDENT Sata loves and cares for the people of North-Western Province, Patriotic Front (PF) secretary general Wynter Kabimba has said.
Mr Kabimba said President Sata understands and has been told about the difficulties the people of Zambezi district face in their day-to-day living.
"On Friday, His Excellency President Sata called me, Mr [Wylbur] Simuusa, Mr [Bwalya] Chungu and told us to come here and tell you that he loves you very much. He wants you to join him in developing Zambezi," Mr Kabimba said
He was speaking here on Monday when he addressed scores of party supporters at Muyembe and Chinyingi grounds in Zambezi West bank.
Mr Kabimba is also Minister of Justice.
Mr Kabimba said the PF is a political party for all people and that is why President Sata asked him, Minister of Agriculture Simuusa and Lupososhi member of Parliament Chungu to deliver the President's goodwill message to the people of Zambezi.
"President Sata wants you to say no to the opposition because they are simply wasting your time. Our President is passionate about developing each part of this country and he needs your support," Mr Kabimba told the cheering crowd.
He said the PF is a party which is representative of all the 73 tribes and is not regional like some opposition political parties.
"God does not want you to suffer and the party [PF] is your voice, your eyes and your saviour from poverty …," Mr Kabimba said.
"Kalunga [God] wants you to live a good life but play your party by aligning yourselves with the PF," he added
Mr Kabimba said he was shocked to learn that Zambezi West constituency literally has no roads when the area has had representatives in Parliament over the years.
"Mr Sata wants to redeem you from the shackles of poverty but he needs your support. It took us four hours to drive a distance of less than 50 kilometers because of non-existence of roads," he said.
Earlier in the day, Mr Kabimba visited the house of the PF candidate in the September 11 Zambezi West by-election, Christabel Ngimbu.
Mr Kabimba said President Sata has always insisted on having members of Parliament, who live with the people.
"President Sata wants MPs who are connected with the people. He doesn't want an MP who will be meeting his or her people in an internet café or restaurant," he said.
Mr Kabimba said a party which is disconnected from the people cannot deliver development.