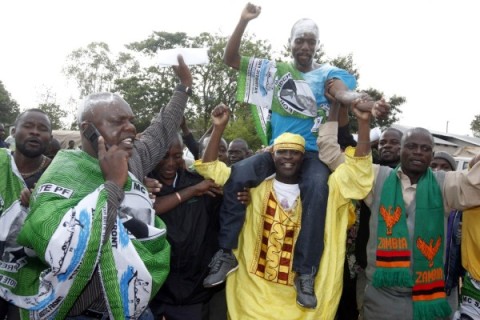 PATRIOTIC Front (PF) Mufumbwe member of Parliament (MP) Stephen Masumba yesterday fired a gunshot in the air in Mangango to disperse suspected United Party for National Development (UPND) cadres, who allegedly attempted to attack him.
And Itezhi-Tezhi UPND MP Greyford Monde was allegedly beaten by suspected UPND cadres during voting at Mwanambuyu polling station.
Western Province commissioner of police Lombe Kamukoshi confirmed both incidents yesterday.
Ms Kamukoshi said police received a report of Mr Masumba firing the gunshot in self-defence.
"Generally, voting has been peaceful despite two incidents that we recorded. Mr Masumba fired a shot in the air to allegedly disperse some suspected UPND cadres who were pursuing him.
"And at Mwanambuyu, some confusion erupted but was quickly managed by our officers," she said.
Mr Masumba said in an interview that a suspected mob of UPND cadres attempted to attack him between 08:00 and 09:00 hours in Mangango Central.
He said the incident happened as he was monitoring the voting process in the area.
"I was moving about monitoring voting in the area and from nowhere, some UPND cadres started following me. I don't know whether they were intimidated by my presence or other unknown reasons.
"They blocked my way and the district commissioner for Mitete is my witness. The mob tried to attack me, to kill me, and in self-defence, I fired a gunshot in the air," he said.
Mr Masumba declined to state the type of firearm he had but said the cadres were armed with machetes and sticks.
He said after the cadres dispersed, they re-grouped and mounted a roadblock to prevent him from leaving the area.
Mr Masumba said he reported the matter to police and sneaked out of the area using alternative routes.
Last year on New Year's eve, Mr Masumba fired a gunshot at a night club in Kitwe to scare off some men who had been trailing him and allegedly wanted to steal his unique Land Rover Discovery 3.
The firearm he used then was a nine millimetre accommodating 17 rounds and black in colour.
And Mr Monde said cadres attacked him at Mwanambuyu polling station around 10:00 hours as he was inquiring why some polling agents were blocked from accessing the centre.
The Deputy Minister of Agriculture and Livestock said the cadres attacked him in the presence of police.
"We reported the matter to the police command. I was with Honourable [Freedom] Sikazwe at the time of the incident," Mr  Monde said.
Sporadic incidents of violence have been recorded in the run-up to yesterday's by-election.
Zambia Daily Mail