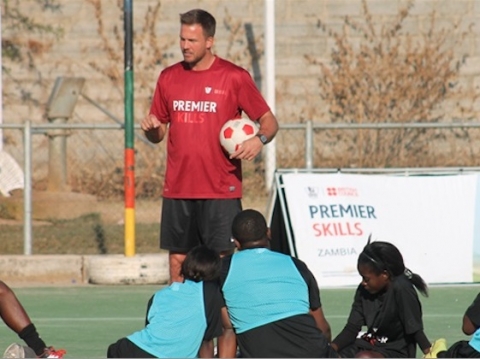 Last week officials from Sunderland AFC visited Zambia, as the club continues to strengthen relationship with Africa through a ground-breaking football initiative.  Sunderland AFC's Head of International Football Development, Graham Robinson, and Caroline Ames from the club's Foundation of Light, delivered coaching sessions and workshops to future football coaches as part of Premier Skills in Zambia.
Coaches from across Zambia have been involved in the Premier Skills initiative, which draws upon the global appeal of football and the Barclays Premier League, to develop community coaches and give youngsters access to football coaching and the opportunity to learn and develop new skills.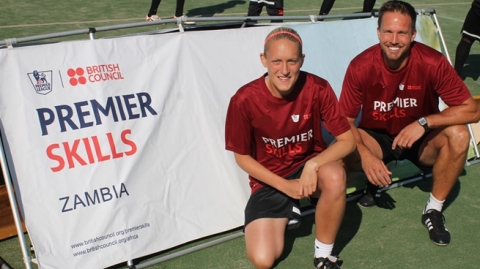 Throughout the week, Graham and Caroline worked with the 36 coaches on
different sessions based around coach education and various coaching themes including dribbling, passing, attacking and defending.  Graham said: "It has been really fulfilling to lead on the Premier Skills initiative in Zambia. Educating the coaches, the skills needed to cascade training to other grass roots activities has been an honour."
Following their training, the coaches prepared and delivered classroom-based sessions to 40 young coaches. The sessions were based around educating the young coaches about what makes a good coach and how to plan an effective warm-up session, along with basic training activities.
The week-long initiative came to an end with a special closing ceremony, with the coaches providing a festival to 80 children between the age of 8 and 14. In attendance was Acting High Commissioner to Zambia, Sean Melbourne and Zambia's Deputy Minister of Youth and Sport, Christopher Mulenga. Speaking about the closing ceremony, Graham said: "The closing ceremony was a great way to end the week and I must applaud the coaches who did a fine job running the whole event.
"It was also great to have the opportunity to showcase Premier Skills and the club's activities to the Deputy Minister of Youth and Sport, Christopher Mulenga. Contributing and giving back to the communities in which the club operates is of primary importance to Sunderland and one that we are very proud of."
"We have a long-held commitment and reputation for investing in community and education programmes in Africa and we are proud to be associated with the Premier Skills project in Zambia."
For more information about Sunderland AFC and its activities in Africa
please visit www.safc.com/africa.